Competitiveness and Determining Factors of Indonesian Tea Export Volume in the World Market
Keywords:
competitiveness, exports, panel, data, tea
Abstract
Indonesia is one of the world's tea exporters, but the decline in the volume and value of its exports to date continues to occur. This study aims to 1) analyze the production trend and export volume of Indonesian tea. 2) analyze Indonesian tea competitiveness in the International market compared to other exporter countries (China, India, Kenya, Sri Lanka, and Vietnam).  3) analyze the determining factors of Indonesia's tea export volume to 7 major destination countries (Malaysia, Russia, Pakistan, USA, Germany, Poland, and Australia). The analysis methods used are simple linear regression, Revealed Comparative Advantage (RCA), Trade Specialization Ratio (TSR), and data panel regression. The results showed that the production and volume of Indonesian tea export will decrease every year. Indonesian tea has a very strong comparative competitiveness, but still below India, Kenya, Sri Lanka, and Vietnam. Indonesia tends to be an exporter of tea to the international market at the stage of export expansion. Factors determining the volume of Indonesian export are Indonesian tea production, the population of importer countries, real GDP per capita of importer countries, level of trade openness of importer countries, and importer countries' inflation rate.
References
Alatas, A. (2015). Trend Produksi dan Ekspor Minyak Sawit (CPO) Indonesia. AGRARIS: Journal of Agribusiness and Rural Development Research, 1(2), 114–124. https://doi.org/10.18196/agr.1215
Chadhir, M. (2015). Analisis faktor-faktor yang mempengaruhi ekspor teh Indonesia ke negara Inggris 1979-2012. Economics Development Analysis Journal, 4(3), 292–300. https://doi.org/doi.org/10.15294/edaj.v4i3.14836
Deka, N., & Goswami, K. (2021). Economic sustainability of organic cultivation of Assam tea produced by small-scale growers. Sustainable Production and Consumption, 26, 111–125. https://doi.org/10.1016/j.spc.2020.09.020
Directorate General of Plantations. (2019). Indonesian Plantation Statistics. Retrieved from http://ditjenbun.pertanian.go.id/?publikasi=buku-publikasi-statistik-2018-2020
Food and Agricultural Organization [FAO]. Indonesian Tea Production. (2021). Retrieved from http://www.fao.org/
Fuady, A. H., Kresna, M., & Hakam, S. (2017). Research Summary Crisis , Growth And Changes In Sub Sahara Africa : Evidence From Kenya. Jurnal Kajian Wilayah, 8(2), 155–162.
Ghozali, I. & Ratmono, D. (2017). Analisis Multivariat dan Ekonometrika Teori, Konsep, dan Aplikasi dengan Eviews 10. Badan Penerbit Universitas Diponegoro, Semarang.
Gujarati, D. N., & Porter, D. C. (2009). Basic Econometric (5th ed.). McGraw-Hill.
Ishak, M., Sudarsono, Widiatmaka, & Yahya, S. (2019). Tea Plantation Dynamic in West Java Based on Productivity and Institutional Research. MIMBAR: Jurnal Sosial Dan Pembangunan, 33(1), 191–197. https://doi.org/doi.org/10.29313/mimbar.v33i1.2315
Khaliqi, M., Gurning, H. R. H., Novanda, R. R., & Simamora, O. N. (2020). Competitiveness Indonesia tea in international market. IOP Conference Series: Earth and Environmental Science, 454(1). https://doi.org/10.1088/1755-1315/454/1/012039
Narmada, I. B., Sarasati, A., Wicaksono, S., Rezkita, F., Putra Wibawa, K. G., Hayaza, S., & Nugraha, A. P. (2020). Phytochemical screening, antioxidant activity, functional groups and chemical element characterization analysis of (-)-Epigallocatechin-3Gallate (EGCG) in East Javanese green tea methanolic extract: An experimental in vitro study. Systematic Reviews in Pharmacy, 11(5), 511–519. https://doi.org/10.31838/srp.2020.5.68
Nayantakaningtyas, J. S., Daryanto, A., & Saptono, I. T. (2017). Competitiveness Of Indonesian Tea In International Market. Indonesian Journal of Business and Entrepreneurship, 3(1), 14–23. https://doi.org/10.17358/IJBE.3.1.14
Nugrahaningrum, Y., Zakaria, R., & Fahma, F. (2020). Analysis of Indonesian tea competitiveness in the international market Analysis of Indonesian Tea Competitiveness in The International Market. AIP Conference Proceedings, 2217(1). https://doi.org/10.1063/5.0000810
Nurunisa, V. F., & Baga, L. M. (2012). Analisis Daya Saing dan Strategi Pengembangan Agribisnis Teh Indonesia. Forum Agribisnis, 2(1), 33–52. https://doi.org/doi.org/10.29244/fagb.2.1.33-52
Parkin, M. (2012). Macroeconomics (10th ed.). Pearson Education.
Pratama, A. P., Darwanto, D. H., & Masyhuri. (2020). Indonesian Clove Competitiveness and Competitor Countries in International Market. Economics Development Analysis Journal, 2(4), 446–455. https://doi.org/doi.org/10.15294/edaj.v9i1.38075
Ramadhani, F. (2013). Daya saing teh Indonesia di pasar internasional. Economics Development Analysis Journal, 2(4), 468–475. https://doi.org/doi.org/10.15294/edaj.v2i4.3214
Setiawan, A. A. R., Sulaswatty, A., Haq, M. S., Utomo, T. H. A., Randy, A., Arutanti1, O., I., A. E., Wiloso, E. I., & Haryono., A. (2019). A study on ecolabeling and Life Cycle Assessment for food products in Indonesia: Potential application to improve the competitiveness of the tea industry. 3rd International Symposium on Green Technology for Value Chains 2018, 1–11. https://doi.org/10.1088/1755-1315/277/1/012026
Suprihatini, R. (2005). Indonesian Tea Export Competitiveness in the World ' S Tea Market. Jurnal Agro Ekonomi, 23(1), 1–29.
Trade Statistics for International Business Development [Trademap]. (2021). Retrieved from https://www.trademap.org
United Nations Commodity Trade Statistic Database [UN Comtrade]. (2020). Retrieved from https://www.un.comtrade.org/data
Verter, N., & BeÄvářová, V. (2014). Analysis of some drivers of cocoa export in Nigeria in the era of trade liberalization. Agris On-Line Papers in Economics and Informatics, 6(4), 208–218. https://doi.org/10.22004/ag.econ.196590
Voora, V., Bermúdez, S., & Larrea, C. (2019). Global Market Report : Tea. Sustainable commodities marketplace series 2019. International Institute For Sustainable Development (IISD), Canada. https://www.jstor.org/stable/resrep22027?seq=1#metadata_info_tab_contents
Wal, S. van der. (2008). Sustainability issues in the tea sector – A comparative analysis of six leading producing countries. Stichting Onderzoek Multinationale Ondernemingen (SOMO), Amsterdam. https://papers.ssrn.com/sol3/papers.cfm?abstract_id=1660434.
Wang, L. (2015). An Analysis of Trade Structure, Comparative Advantage and Complementarity of Agricultural Products between China and the Main East Asian Countries. Asian Agricultural Research, 7(5), 14–20. https://doi.org/10.22004/ag.econ.207033
Yee, L. S., WaiMun, H., Zhengyi, T., Ying, L. J., & Xin, K. K. (2016). Determinants of Export: Empirical Study in Malaysia. Journal of International Business and Economics, 4(1), 61–75. https://doi.org/10.15640/jibe.v4n1a6
Zhi, X., Xianjin, H., Zheng, Z., & Hong, Y. (2018). Spatio-temporal variation and the driving forces of tea production in China over the last 30 years. Journal of Geographical SciencesJournal of Geographical Sciences, 28(3), 275–290. https://doi.org/10.1007/s11442-018-1472-2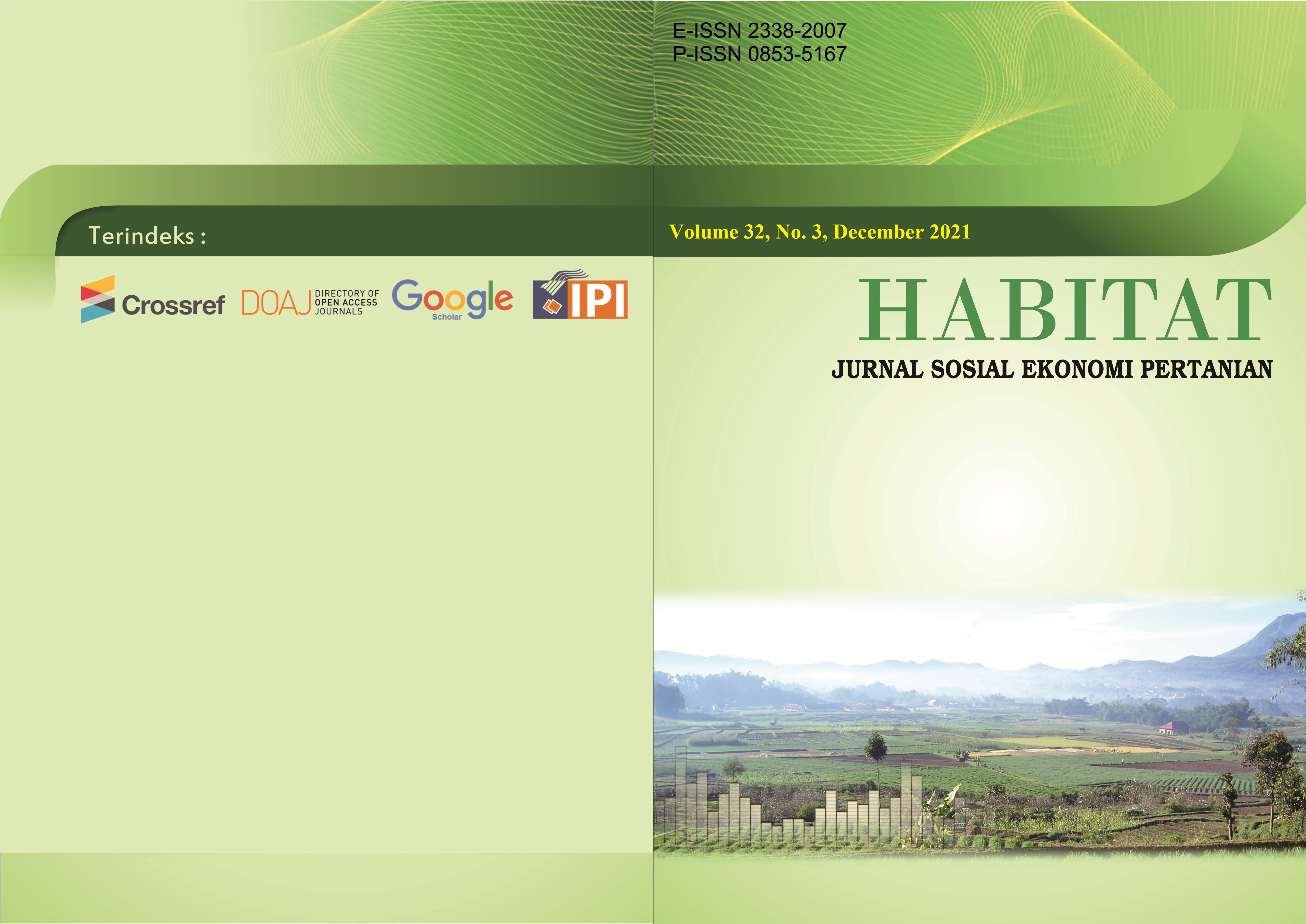 Downloads
How to Cite
Nursodik, H., Santoso, S. I., & Nurfadillah, S. (2021). Competitiveness and Determining Factors of Indonesian Tea Export Volume in the World Market. HABITAT, 32(3), pp.163–172. https://doi.org/10.21776/ub.habitat.2021.032.3.18
License
Authors who publish with this journal agree to the following terms
:
HABITAT
by
http://habitat.ub.ac.id/index.php/habitat/index
is licensed under a
Creative Commons Attribution-NonCommercial 4.0 International License
.
Authors are permitted and encouraged to post their work online (e.g., in institutional repositories or on their website) prior to and during the submission process, as it can lead to productive exchanges, as well as earlier and greater citation of published work (See
The Effect of Open Access
).