A Study of the Potential of Ecotourism Development in Konawe Islands Regency, Southeast Sulawesi Province, Indonesia
Keywords:
ecotourism, konawe islands, potential
Abstract
The ecotourism potential development in Konawe Islands, Southeast Sulawesi Province requires academic study as a foothold in region policy making by all development stakeholders. This study aims to provide data and information about the potential of natural resources could be the ecotourism object, analyzing the perceptions of local communities, and formulating strategic plan for ecotourism development. The study was conducted from April-October 2019. This research used quantitative methods with data that were collected from observations, interviews, Focus Group Discussion (FGD) and literature studies. Data analysis was made using quality criteria scale of flora fauna diversity, SWOT analysis and litmus tests. The results of the study showed that Konawe Islands Regency has potential ecotourism objects in coastal-sea panoramas (Sawaea beach and Kampa beach), and in the mainland-hills with waterfalls panoramas (Tumburano waterfalls and Lanuku waterfalls). The results of importance/significance measurements indicate that the flora potential have a scale value of 3 (moderate), the fauna potential have scale of value 4 (good) and the potential criteria of "B", which indicates that the tourist attraction has a potential quality to be developed as ecotourism. Local people's perception is very positive because they believe there are economic, socio-cultural and ecological benefits from ecotourism development. The results of the SWOT analysis with the Litmus test found some main strategies in form program plans such as increasing the knowledge and skills tourism community, increasing the availability of capital financial for ecotourism businesses and development of ecotourism infrastructure facilities. Besides that, the main strategies from SWOT analysis result are promotion of ecotourism objects, the stipulation of rules about management of attractions; and deal with potential conflict issues and abrasion or erosion.
References
Adi, I. P. P., & Danardani, W. (2020). Sport–Ecotourism Development in Ambengan Village, Sukasada District, Buleleng Regency. Paper presented at the 3rd International Conference on Innovative Research Across Disciplines (ICIRAD 2019).
Azis, R., Asrul, A., & Risman, R. (2016). Mode Choice for Sea Transportation in Archipelagic Region: The Case of Kendari-Konawe Route in South East Sulawesi Province. Journal of Regional City Planning, 27(2), 151-172.
Blamey, R. K. (2001). Principles of ecotourism. Journal The encyclopedia of ecotourism, 2001, 5-22.
BPS. (2019). Kabupaten Konawe Islands dalam Angka, Konawe Islands Regency in Figures. In B. P. S. K. Konawe (Ed.), (Vol. 74120.1803). Konawe BPS Kabupaten Konawe.
Carrier, J. G., & Macleod, D. V. (2005). Bursting the bubble: The socioâ€cultural context of ecotourism. Journal of the Royal Anthropological Institute, 11(2), 315-334.
Chiu, Y.-T. H., Lee, W.-I., & Chen, T.-H. (2014). Environmentally responsible behavior in ecotourism: Antecedents and implications. Journal Tourism management, 40, 321-329.
Cholis, A. F., Hakim, L., Pangestuti, E., & Events. (2019). Sharia Tourism Development Strategy In Natural Recreation Sites of Batu City, East Java. International Journal of Applied Sciences in Tourism, 3(1), 24-37.
Dodds, R., & Holmes, M. R. (2019). Beach tourists; what factors satisfy them and drive them to return. Journal Ocean coastal management, 168, 158-166.
Fandeli, C. (2000). Pengusahaan ekowisata. Yogyakarta: Diterbitkan atas kerjasama Fakultas Kehutanan UGM [dengan] Pustaka Pelajar.
Fennell, D. A. (2020). Ecotourism: Routledge.
Klau, N. P., Affandi, A., & Nugroho, I. (2019). The Role of Social Capital in the Development of Mauhalek Waterfall Ecotourism in Belu District, East Nusa Tenggara Province. Journal of Indonesian Tourism Development Studies, 7(1), 1.
Maskuri, M. (2017). Sebaran Gua Penguburan di Kabupaten Konawe Islands Propinsi Sulawesi Tenggara. Jurnal Penelitian Arkeologi, 1(2), 46-61.
Moghavvemi, S. W., Kyle M.; Paramanathan, Tanuosha; Musa, Ghazali; Hamzah, Amran. (2017). The effect of residents' personality, emotional solidarity, and community commitment on support for tourism development. Journal Tourism management, 63, 242-254.
Mukhayar, M., Pasolon, Y. B., & Jaya, L. M. G. (2019). Daya Saing Destinasi Wisata Kampa, Tumburano, dan Watuntinapi Berbasis Spasial di Kabupaten Konawe Islands. Jurnal Perencanaan Wilayah PPS UHO, 4(2).
Nugroho, I., Negara, P. D., & Yuniar, H. R. (2018). The planning and the development of the ecotourism and tourism village in Indonesia: a policy review. Journal of SocioeconomicsDevelopment, 1(1), 43-51.
Pandey, A. P., & Pandey, M. (2017). Potentials and problems of adventure tourism a study of Rishikesh. ACADEMICIA: An International Multidisciplinary Research Journal, 7(3), 31-38.
Pickel-Chevalier, S. (2018). Tourism in Bali and the challenge of sustainable development: Cambridge Scholars Publishing.
Picken, F. (2017). Beach tourism. The Sage International Encyclopedia of Travel Tourism, 135-136.
Stratigea, A., & Katsoni, V. (2015). A strategic policy scenario analysis framework for the sustainable tourist development of peripheral small island areas–the case of Lefkada-Greece Island. Journal European Journal of Futures Research, 3(1), 5.
Sulaksono, A. G. (2017). Perencanaan dan Implementasi Sistem Informasi Gegrafis Potensi Pariwisata Kabupaten Konawe Islands Berbasis WEB. Paper presented at the Seminar Nasional Sistem Informasi (SENASIF).
Syaf, H., Hemon, T., & Hakim, Y. (2019). Perencanaan Lahan Untuk Pengembangan Tanaman Industri di Kecamatan Wawonii Tenggara Kabupaten Konawe Islands. Physical Social Geography Research Journal, 1(1), 23-34.
Wood, M. (2002). Ecotourism: Principles, practices and policies for sustainability: UNEP.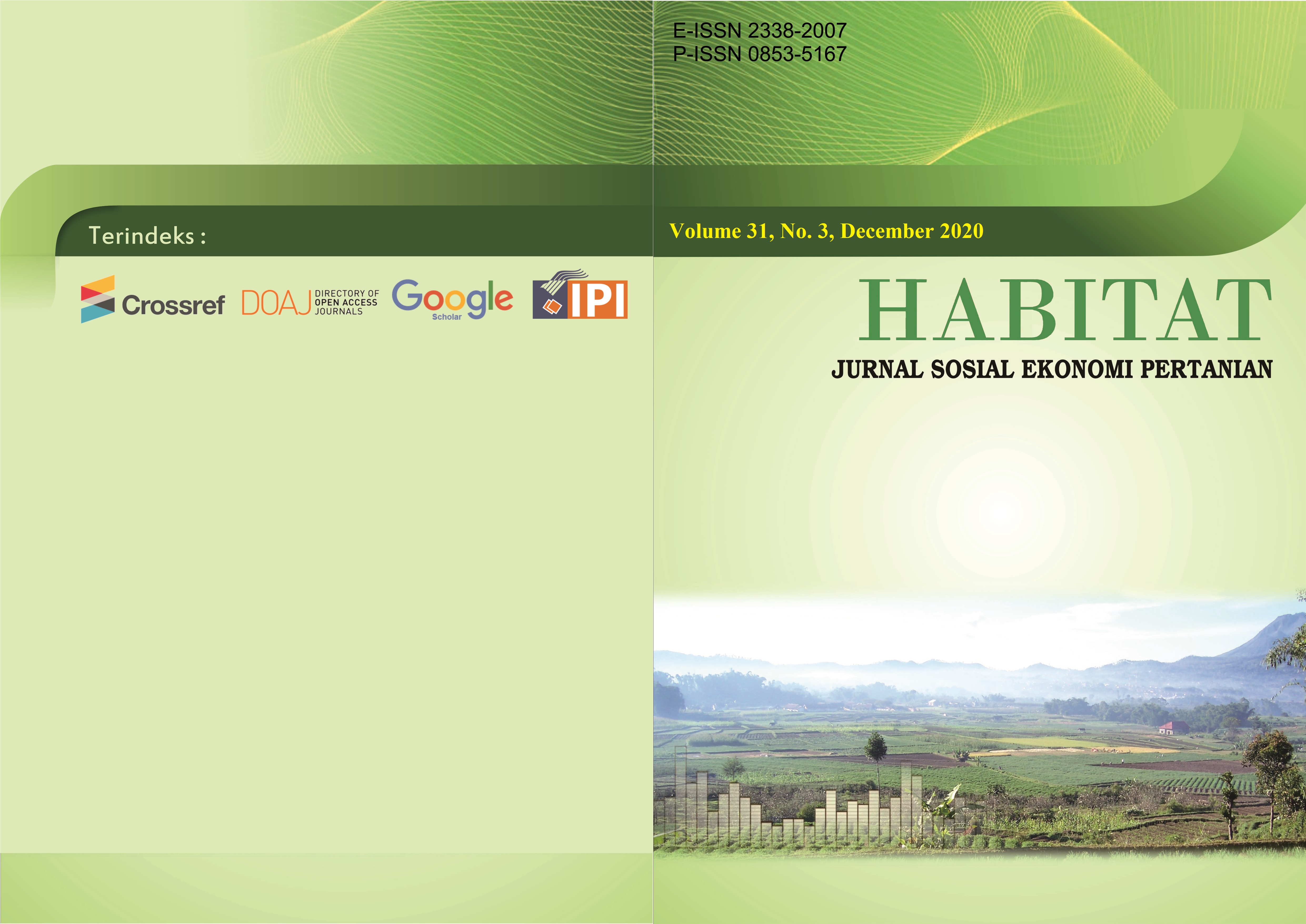 Downloads
How to Cite
Hidrawati, H., Normayasari, N., Sahari, S., Fyka, S. A., & Yusria, W. O. (2022). A Study of the Potential of Ecotourism Development in Konawe Islands Regency, Southeast Sulawesi Province, Indonesia. HABITAT, 31(3), pp.115–124. https://doi.org/10.21776/ub.habitat.2020.031.3.14
License
Copyright (c) 2020 HABITAT
This work is licensed under a Creative Commons Attribution-NonCommercial 4.0 International License.