Analysis of Production Factor Efficiency in Organic Rice Farming (Oryza sativa) (A Case in Sukorejo Village, Sambirejo Sub-district, Sragen District)
Keywords:
organic rice, production factors, allocative efficiency
Abstract
Central Java Province is the third largest rice producer in Indonesia (BPS, 2019). Sragen Regency has started developing organic rice since 2010 and the slogan for agriculture is "Go Organic". Sukorejo Village is one of the villages in Sambirejo sub-district as the center of organic rice production which is still under development. The problem faced is a low productivity due to a limited availability of production factors i.e. fertilizer and bio pesticides. It is engendered by the majority of farmers provide input traditionally. The allocative efficiency using the regression coefficient value of Cobb-Douglass was applied to analyze the efficiency of those production factors. The result of analysis showed that the value of using bio pesticides has not been efficiently obtained by NPMx/Px of 2.66. It displayed that the allocation use of the bio pesticides was still dearth of. The respondents used pesticides at 54 Lt/ha in average have not been efficient, therefore it needs to be enumerated to get the maximum production reaching 104.04 Lt/ha. While, the results of analysis revealed that the value of NPMx/Px allocation of labor was 1.28 in which the value was greater than one so that the allocation of labor in the study area was not efficient. With the use of labor at 93.6 HOK per hectare in one planting season, it indicated that the allocation was still inefficient. Farmers need to add the optimal use of labor to reach 120.25 HOK per hectare in one planting season.
References
Andoko, Agus. 2002. Budidaya Padi Secara Organik. Penebar Swadaya. Depok.
Badan Pusat Statistik. 2019. Luas Panen, Produksi, dan Produktivitas Padi Menurut Provinsi, Tahun 2018 .https://www.bps.go.id/dynamictable/2019/04/15/1608/luas-panen-produksi-dan-produktivitas-padi-menurut-provinsi-2018.html.
Beattie, R. Bruce, dan Taylor, C. Robert. 1994. Ekonomi Produksi. Gadjah Mada University Press. Yogyakarta.
Indroyono. 2011. Analisis Efisiensi Alokatif Penggunaan Faktor-Faktor Produksi Jagung di Desa Sukolilo, Kecamatan Wajak, Kabupaten Malang.
Notarianto, D. 2011. Analisis Efisiensi Penggunaan Faktor-Faktor Produksi pada Usahatani Padi Organik dan Padi Anorganik (Studi Kasus : Kecamatan Sambirejo, Kabupaten Sragen).
Parel, C.P., G.C. Caldito, P.L. Ferre, G.G. De Guzman, C.S. Sinsioco, dan R.H. Tan. 1973. Sampling Design and Procedures. PSSC. Phillipine.
Rachmawati, L.N. 2008. Analisis Keuntungan dan Efisiensi Alokatif Usahatani Padi Sawah dengan Irigasi Sumur Pompa di Kecamatan Paron, Kabupaten Ngawi. Thesis. UGM. Yogyakarta.
Salma, Meta Nur Dinna. 2012. Analisis Efisiensi Alokatif Input Produksi Usahatani Jagung (Zea mays) di Desa Kramat, Kecamatan Bangkalan, Kabupaten Bangkalan. Skripsi. Universitas Brawijaya. Malang.
Soekartawi. 2002. Prinsip Dasar Ekonomi Pertanian (Teori dan Aplikasi). PT Raja Grafindo Persada, 2002. Jakarta.
Soekartawi. 2011. Ilmu Usahatani dan Penelitian Untuk Pengembangan Petani Kecil. UI Press. Jakarta.
Sugiarto et al. 2005. Ekonomi Mikro Sebuah Kajian Komprehensif. PT. Gramedia Pustaka Utama. Jakarta.
Wibowo, Larasati S. 2012. Analisis Efisiensi Alokatif Faktor-Faktor Produksi dan Pendapatan Usahatani Padi (Oryza sativa L.) di Desa Sambirejo, Kecamatan Saradan, Kabupaten Madiun). Skripsi. Fakultas Pertanian. Universitas Brawijaya. Malang.
Widayat, Wahyu. 2013. Analisis Efisiensi Produksi dan Daya Saing Usahatani Padi Organik di Kabupaten Sragen. Disertasi. Fakultas Pertanian. UGM. Yogyakarta.
Winangun, Y. Wataya. 2015. Membangun Karakter Petani Organik Sukses dalam Era Globalisasi. Kanisius (Anggota IKAPI). Yogyakarta.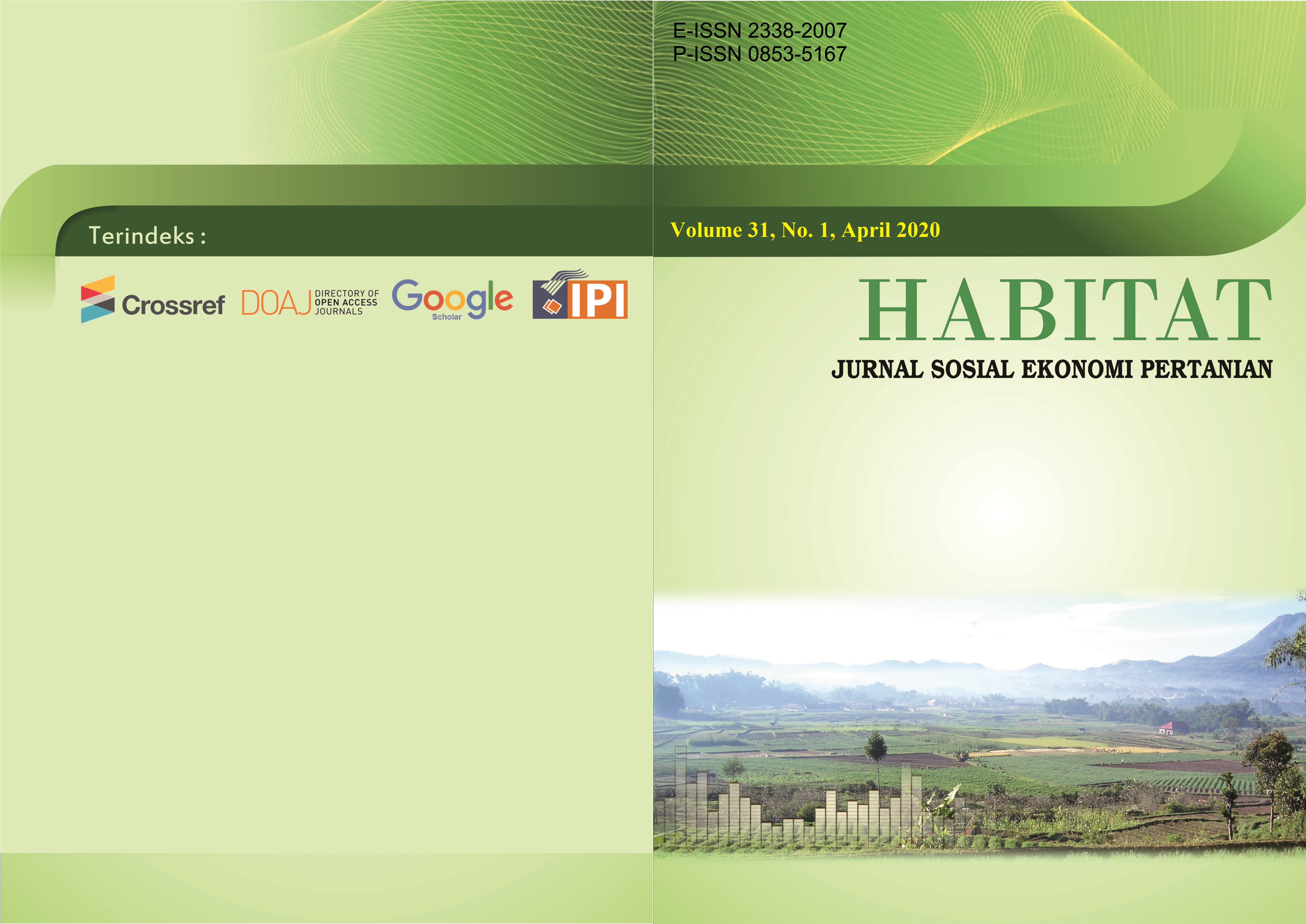 Downloads
How to Cite
Andriatmoko, N. D. (2020). Analysis of Production Factor Efficiency in Organic Rice Farming (Oryza sativa) (A Case in Sukorejo Village, Sambirejo Sub-district, Sragen District). HABITAT, 31(1), pp.1–10. https://doi.org/10.21776/ub.habitat.2020.031.1.1
License
Authors who publish with this journal agree to the following terms
:
HABITAT
by
http://habitat.ub.ac.id/index.php/habitat/index
is licensed under a
Creative Commons Attribution-NonCommercial 4.0 International License
.
Authors are permitted and encouraged to post their work online (e.g., in institutional repositories or on their website) prior to and during the submission process, as it can lead to productive exchanges, as well as earlier and greater citation of published work (See
The Effect of Open Access
).