The Influences of Cyber Extension and Communication Media (Facebook, WhatsApp, Youtube) on Innovation Adoption in Nganjuk Regency
Keywords:
cyber, extension, communication, media, innovation
Abstract
Agricultural information is one of the important factors in agricultural production. Communication Information Technology (ICT) in the agricultural sector will lead to sustainable agriculture through the preparation of agricultural information that is timely, relevant in the decision-making process to increase its productivity. This study aimed to determine the effect of the Cyber extension and communication media on the innovation adoption in Nganjuk Regency. The study was conducted in Nganjuk Regency from June to September 2019, with a sample size of 110 people. The study was designed using SEM approach with the help of AMOS 21 application. The results showed the openness of farmers in Nganjuk Regency to the Cyber extension extension media had the highest score on the Cyber Extension extension media variable, this was due to ownership of communication equipment, selection of communication equipment types, availability of communication networks and high desire to find suitable information. WhatsApp communication media indicator had the highest score on the communication media variable, this was due to the communication media according to the needs of farmers in Nganjuk District, easy to use and able to reach broad communication. Cyber extension extension media and communication media influence the adoption of innovation, because appropriate extension media and communication media can accelerate the process of innovation adoption.
References
Adawiyah C.R., 2017. Urgensi Komunikasi Dalam Kelompok Kecil Untuk Mempercepat Proses Adopsi Teknologi Pertanian, Forum Penelitian Agronomi Vol. 35 No. 1 Juli 2017 : 59-74.DoI:http//dx.doi.org/10.21082/Fae.V35nI.2017.59-74.
Amin. Muh., 2014, Efektivitas dan Perilaku Petani Dalam Memanfaatkan Teknologi Informasi. Balai Pengkajian Teknologi Pertanian Sulawesi Tengah.
Ferdinand. 2002. Metode Penelitian Manajemen : Pedoman penelitian untuk Skripsi, Tesis, dan Desertasi Ilmu Manajemen, Semarang : Badan Penerbit Universitas Diponegoro.
Gultom, D.T., et.al., 2017. Strategi Pemenuhan Kebutuhan Informasi Pertanian Melalui Pemanfaatan Cyber extension di Provinsi Lampung.Sosiohumaniora Vol. 19 No. 1 Maret 2017 : 64-69.
Harianta Y.W., et al., 2011. Adopsi Inovasi Pertanian di Kalangan Petani Kecamatan Gatak Kabupaten Sukoharjo, Agrin Vol. 15, No. 2 Oktober 2011. ISSN: 1410-0029.
Kusumaningrum, A., 2012. Faktor-Fakror yang Mempengaruhi Penerapan Budidaya Tanaman Padi Secara Modern dan Tradisional di Kecamatan Bayan Kabupaten Purworejo. Fakultas Pertanian.Universitas Gadjah Mada.
Lionerberger H.F. dan Gwin. 1992. Technology Transfer. Illinois: The Interstate Orienters and Publiesh, Inc.
Maureen. 2009. How Can ICTs Promote Sustainable Agricultural (terhubung http://www.citizenjournalismafrica.org/blog/%5Buser%5D/05-aug-2009/1856(12 Desember 2009)
Mulyandari et al., 2010, Implementasi Cyber extension Dalam komunikasi Inovasi Pertanian, Informasi Pertanian Vol. 19 no 2, 2010.
Mulyandari, R.S.H. 2011. Perilaku Petani Sayuran dalam Memanfaatkan Teknologi Informasi. Jurnal Perpustakaan Pertanian 20(1): 22-34.
Neuman, W.L., 2017. Metodologi Penelitian Sosial Pendekatan Kualitatif dan Kuantitatif. PT. Indeks, Jakarta.
Prayoga K., 2018. Dampak Penetrasi Teknologi Informasi Dalam Transformasi Sistem Penyuluhan Pertanian di Indonesia, JESP Vol. 11 No. 1 Maret 2018.
Sadono, D., 2009. Perkembangan Pola Komunikasi Dalam Penyuluhan Pertanian di Indonesia. Jurnal Komunikasi Pembangunan Juli 2009. Vol.07. no. 2.
Sasongko, W.A. et.al., 2014. Pengaruh Perilaku Komunikasi Terhadap Sikap dan Adopsi Teknologi Budidaya Bawang merah di Lahan Pasir Pantai.
Solimun, A.A.R. Fernandes & Nurjanah. 2017. Pemodelan Persamaan Struktural (SEM) Pendekatan WARPPLS.UB Press. Malang.
Sugiyono, 2004. Statistika untuk Penelitian. Penerbit CV. Alfabeta. Bandung.
Sumardjo, 2017, Cyber extension: Peluang dan Tantangannya dalam revitalisasi Penyuluhan Pertanian.
Suryantini et al., 2004, Pemanfaatan Informasi Teknologi Pertanian Oleh Penyuluh Pertanian : Kasus di Kabupaten Bogor. Jawa barat. Jurnal Perpustakaan Pertanian Vo. 13. Nomor 1, 2004.
Umar, H. 2004. Riset Pemasaran dan Perilaku Konsumen. PT. Gramedia Pustaka Utama. Jakarta.
Yusuf, P., 2009. Ilmu Informasi, Komunikasi dan Kepustakaan. Jakarta. PT. Bumi Perkasa. (ind).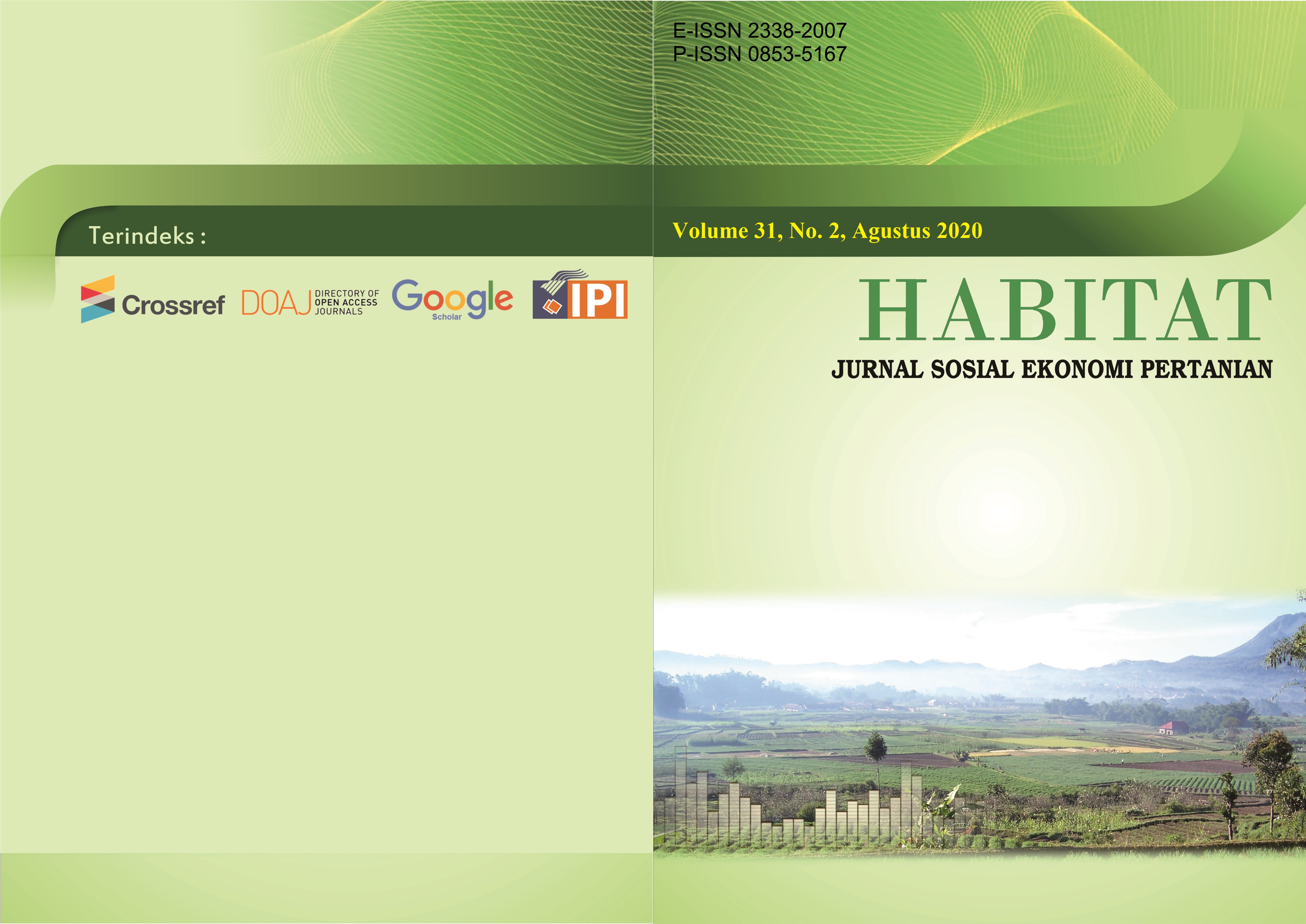 Downloads
How to Cite
Purwiyati, R., Daroini, A., & Talkah, A. (2020). The Influences of Cyber Extension and Communication Media (Facebook, WhatsApp, Youtube) on Innovation Adoption in Nganjuk Regency. HABITAT, 31(2), pp.86–94. https://doi.org/10.21776/ub.habitat.2020.031.2.10
License
Authors who publish with this journal agree to the following terms
:
HABITAT
by
http://habitat.ub.ac.id/index.php/habitat/index
is licensed under a
Creative Commons Attribution-NonCommercial 4.0 International License
.
Authors are permitted and encouraged to post their work online (e.g., in institutional repositories or on their website) prior to and during the submission process, as it can lead to productive exchanges, as well as earlier and greater citation of published work (See
The Effect of Open Access
).