Performance Analysis of Village-Owned Enterprises Based on Financial and Management Aspects in Blitar Regency, East Java
Keywords:
performance, BUMDes, interactive model
Abstract
This study aims to analyze the performance development of village-owned enterprises (BUMDes) as the manager of productive economic activities. Performance measurement based on financial aspects and management aspects. A financial aspect includes capital growth, asset growth, asset quality, profitability. While management aspects consist of BUMDes legality, constitution, and by laws, the secretariat office, facilities, operational executor, involvement of village government in the stewardship BUMDes, incentive/honorarium board BUMDes, financial reports, progress reports, accountability BUMDes, contributions BUMDes to Government village data analysis technique used in this study is an interactive model consist of three main things: data reduction, data presentation, and conclusion. The results were obtained (1) BUMDes Health category by 84 BUMDes or 38.2%, (2) BUMDes category BUMDes Fit as many as 30 or 13.6%, (3) BUMDes category Unhealthy much as 84 BUMDes or 38.2%, (4) BUMDes category Off BUMDes as much as 22 or 10%. This implies the need for follow-up of the Government to improve performance so that it can be BUMDes BUMDes the healthy category, especially for BUMDes inactive.
References
Dewi K., S., A. 2014. Peranan Badan Usaha Milik Desa (Bumdes) Sebagai Upaya Dalam Meningkatkan Pendapatan Asli Desa (Pades) Serta Menumbuhkan Perekonomian Desa. Journal of Rural and Development. Volume V No. 1.
Ferdianto, B. (2016). Eksistensi Badan Usaha Milik Desa terhadap Peningkatan Pendapatan Asli Desa di Tiyuh Candra Kencana Kecamatan Tulang Bawang Tengah Kabupaten Tulang Bawang Barat.
Hadi, S. (2017). Pemeriksaan Keabsahan Data Penelitian Kualitatif Pada Skripsi. Jurnal Ilmu Pendidikan, 22(1).
Kustituanto, B., & Badrudin, R. (1994). STATISTIKA 1: Deskriptif. Gunadarma.
Maulana, S. (2013). Tinjauan siyasah maliyah terhadap pengelolaan BUMDes dalam bidang pertambangan emas di Desa kertajaya Kecamatan Simpenan Kabupaten Sukabumi (Doctoral dissertation, UIN Sunan Gunung Djati Bandung).
Miles, M. B. Dan Huberman, A. Michael. 1992. Analisis Data Kualitatif.
Moleong, L.J. 2001. Metodologi Penelitian Kualitatif. Ban- dung: PT. Remaja Rosdakarya.
Nawawi, H. (2001). Metode Penelitian Bidang Sosial, Yogjakarta: Gajahmada University Press
Pebriyanti, S. (2020). Analisis Prinsip Pengelolaan Badan Usaha Milik Desa Dalam Meningkatkan Pendapatan Asli Desa Di Kecamatan Air Kumbang Kabupaten Banyuasin (Doctoral dissertation, Universitas Muhammadiyah Palembang).
Ridlwan, Z. (2014). Urgensi badan usaha milik desa (bumdes) dalam pembangun perekonomian desa. Jurnal Ilmu Hukum, 8(3), 424-440.
Sitepu, R. (2018). Analisis Proses Pembentukan dan Pengelolaan Badan Usaha Milik Desa (BUMDes) di Kecamatan Wampu Kabupaten Langkat.
Sururi, A., & Mulyasih, R. (2017). Penguatan Kapasitas Masyarakat Melalui Inovasi Formulasi Kebijakan Perencanaan Pembangunan Partisipasif di Kecamatan Wanasalam Kabupaten Lebak. Wikrama Parahita: Jurnal Psengabdian Masyarakat, 1(1), 5-18.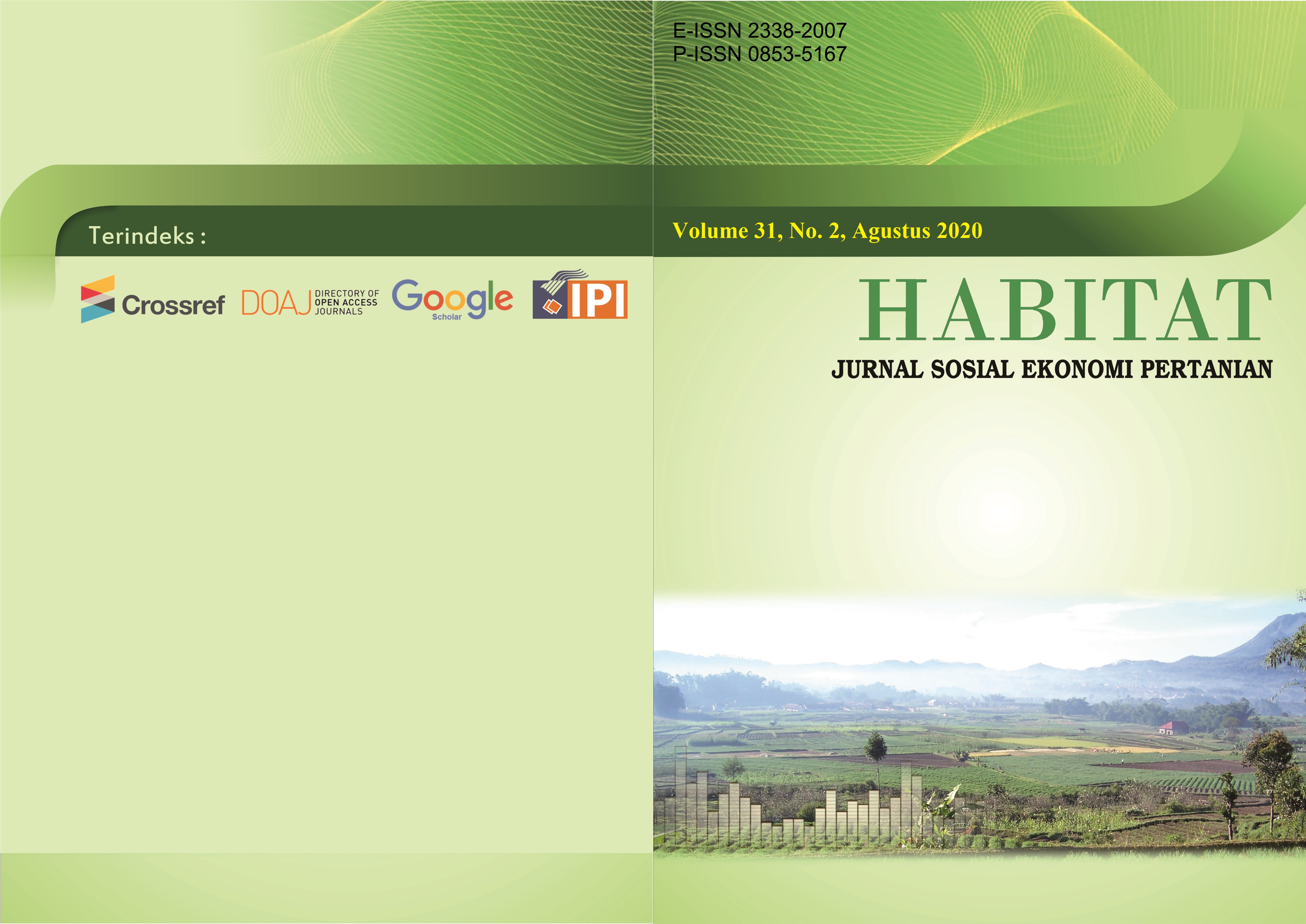 Downloads
How to Cite
Nugroho, T. W. (2020). Performance Analysis of Village-Owned Enterprises Based on Financial and Management Aspects in Blitar Regency, East Java. HABITAT, 31(2), pp.64–77. https://doi.org/10.21776/ub.habitat.2020.031.2.8
License
Authors who publish with this journal agree to the following terms
:
HABITAT
by
http://habitat.ub.ac.id/index.php/habitat/index
is licensed under a
Creative Commons Attribution-NonCommercial 4.0 International License
.
Authors are permitted and encouraged to post their work online (e.g., in institutional repositories or on their website) prior to and during the submission process, as it can lead to productive exchanges, as well as earlier and greater citation of published work (See
The Effect of Open Access
).