Studi Pembiayaan Mikro Petani Dalam Pengambilan Keputusan Untuk Kredit Formal dan Kredit Nonformal
Keywords:
pembiayaan mikro, kredit formal, kredit nonformal, hortikultura
Abstract
Akses terhadap sumber-sumber permodalan masih menjadi masalah utama yang dihadapi oleh petani-petani di Indonesia yang mayoritas memiliki lahan yang sempit dan dianggap tidak bankable oleh lembaga keuangan pemberi kredit. Oleh karena itu, penelitian ini berfokus pada pengaruh akses pembiayaan mikro terhadap peningkatan kesejahteraan petani dengan mengamati perilaku petani dalam menggunakan modal yang diterimanya. Tujuan dari penelitian ini adalah: 1) mengidentifikasi pelaksanaan pembiayaan mikro oleh petani hortikultura di Jawa Timur 2) menganalisis faktor-faktor apakah yang dipertimbangkan petani hortikultura di Jawa Timur dalam memilih lembaga keuangan. Metode penentuan lokasi penelitian dilaksanakan di dua lokasi yaitu Desa Wonomulyo Kecamatan Poncokusumo, Kabupaten Malang dan Desa Ngadirejo Kecamatan Pacet Kabupaten Mojokerto. Kedua lokasi dipilih karena merupakan sentra produksi hortikutura di Jawa Timur. Penentuan sampel yang akan digunakan berdasarkan rumus Slovin dengan metode sampel bertingkat proposional. Total sampel pada penelitian ini sejumlah 160 petani. Untuk menjawab permasalahan tersebut digunakan analisis deskriptif dan analisis regresi logistik (logit). Lembaga keuangan formal mencakup bank pemerintah dan bank swasta. Sedangkan lembaga informal yang melaksanakan penyaluran dana kredit mikro adalah pihak swasta atau lembaga-lembaga berasal dari lingkungan petani itu sendiri.Mayoritas petani secara umum mengetahui bahwa tingkat bunga sumber pembiayaan formal memang lebih rendah, namun prosedur administrasi dinilai sulit. Berdasarkan hasil regresi untuk faktor yang mempengaruhi keputusan petani dalam memilih pembiayaan mikro formal atau informal diantaranya pendidikan, lama usaha, dan bunga, besar pinjaman.
References
Afandi, Pandi. 2010. Analisis Implementasi 5C Bank BPR Dalam Menentukan Kelayakan Pemberian Kredit Pada Nasabah. Jurnal Among Makarti Volume 3 Nomor 5 Halaman 55-69.
Ashari dan Saptana. (2005). Prospek Pembiayaan Syariah untuk Sektor Pertanian. Pusat Analisis Sosial Ekonomi dan Kebijakan Pertanian. Forum Penelitian Agroekonomi. Vol 23, 2 Desember 2005: 132-147.
Gershon, F., Onchan, T., And Raparla, T.,. (1988). Collateral, Guarantees And Rural Credit In Developing Countries: Evidence From Asia. Agricultural Economics, Vol. 2.
Hastuti, dkk, (2006), Kajian Cepat Pelaksanaan Subsidi Langsung Tunai Tahun 2005 di Indonesia : Studi Kasus di Lima Kabupaten Kota, Jakarta: Lembaga Penelitian SMERU.
Ibrahim, Abdelateif Hassan dan Siegfried Bauer. 2013. Access to Micro credit and Its Impact on Farm Profit Among Rural Farmers in Dryland of Sudan. Global Advanced Research Journal of Agricultural Science Volume 2 Nomor 3 Halaman 88-102.
Indiastuti, R. Arti Tahun Keuangan Mikro bagi Indonesia. 2005. http:www.pikiran-rakyat.com/cetak/2005/0305/08/0608.htm [12/03/18].
Lemessa, Assifaw, And Adeba Gemechu. (2016). Analysis Of Factors Affecting Smallholder Farmers' Access To Formal Credit In Jibat District, West Shoa Zone, Ethiopia. International Journal Of African And Asian Studies Vol.25.
Madajewicz, M. (2003). Does the credit contract matter? The impact of lending programs on poverty in Bangladesh. Working Paper. New York: Columbia University.
McKernan, S. M. (2002). The impact of microcredit programs on self employment profits: Do noncredit program aspects matter?.The Review of Economics and Statistics, 84(1), 93–115.
Mohieldin, Mahmoud & Wright, Peter. 2000. Formal and Informal Credit Markets in Egypt. Economic Development and Cultural Change (48) : 657-70.
Muhongayire, Wivine. 2012. An Economic Assessment Of The Factors Influencing Smallholder Farmers' Access To Formal Credit: A Case Study Of Rwamagana District, Rwanda. University Of Nairobi, Department Of Agricultural Economics Faculty Of Agriculture.
Morduch, J. (1998). Does microfinance really help the poor? New evidence from flagship programs in Bangladesh. NYU Wagner Graduate School working paper.
Nguyen, Han, Brian H. Kleiner. (2003). The effective management of mergers. Leadership & Organization Development Journal, Vol. 24 Issue: 8, pp.447-454.
Pham, T. T. T. and R. Lensink 2007. Lending policies of informal, formal and semiformal lenders - Evidence from Vietnam. Economics of Transition 15(2): 181-209.
Pusdatin. (2015). Analisis PDB Sektor Pertanian Tahun 2015. Jakarta: Kementerian Pertanian.
Rahayu, Lestari. 2015. Aksesibilitas Petani Bawang Merah Terhadap Lembaga Keuangan Mikro Sebagai Sumber Pembiayaan. Jurnal Agraris Volume 1 Nomor 1 Halaman 52-60.
Supandi dan Nurmanaf, A.R. (2006). Pemberdayaan Petani Kelapa dalam Upaya Peningkatan Pendapatan. Jurnal Litbang Pertanian Edisi 25 (1) Tahun 2006. Pusat Analisis Sosial Ekonomi dan Kebijakan Pertanian. Bogor.
Yunus, Muhammad dan Jolis, Alan. (2007). Bank Kaum Miskin: Kisah Yunus dan Grameen Bank Memerangi Kemiskinan. Terjemahan: Irfan Nasution, Pengantar: Robert MZ. Lawang. Depok: Marjin Kiri.
Wati, Dewi Rohma. 2015. Akses Kredit Mikro Pada Petani Padi Organik Di Kabupaten Bogor. Jurnal Agribisnis Volume 9 Nomor 2 Halaman 97-110.
Zeller, M., Manohar. Sharma, Akhter.U. Ahmed And Shahidur Rashid. (2001). Group-Based Financial Institutions For The Rural Poor In Bangladeshi: An Institutional And Household Level Analysis. Research Report 120. Ifpri, Washington, D.C.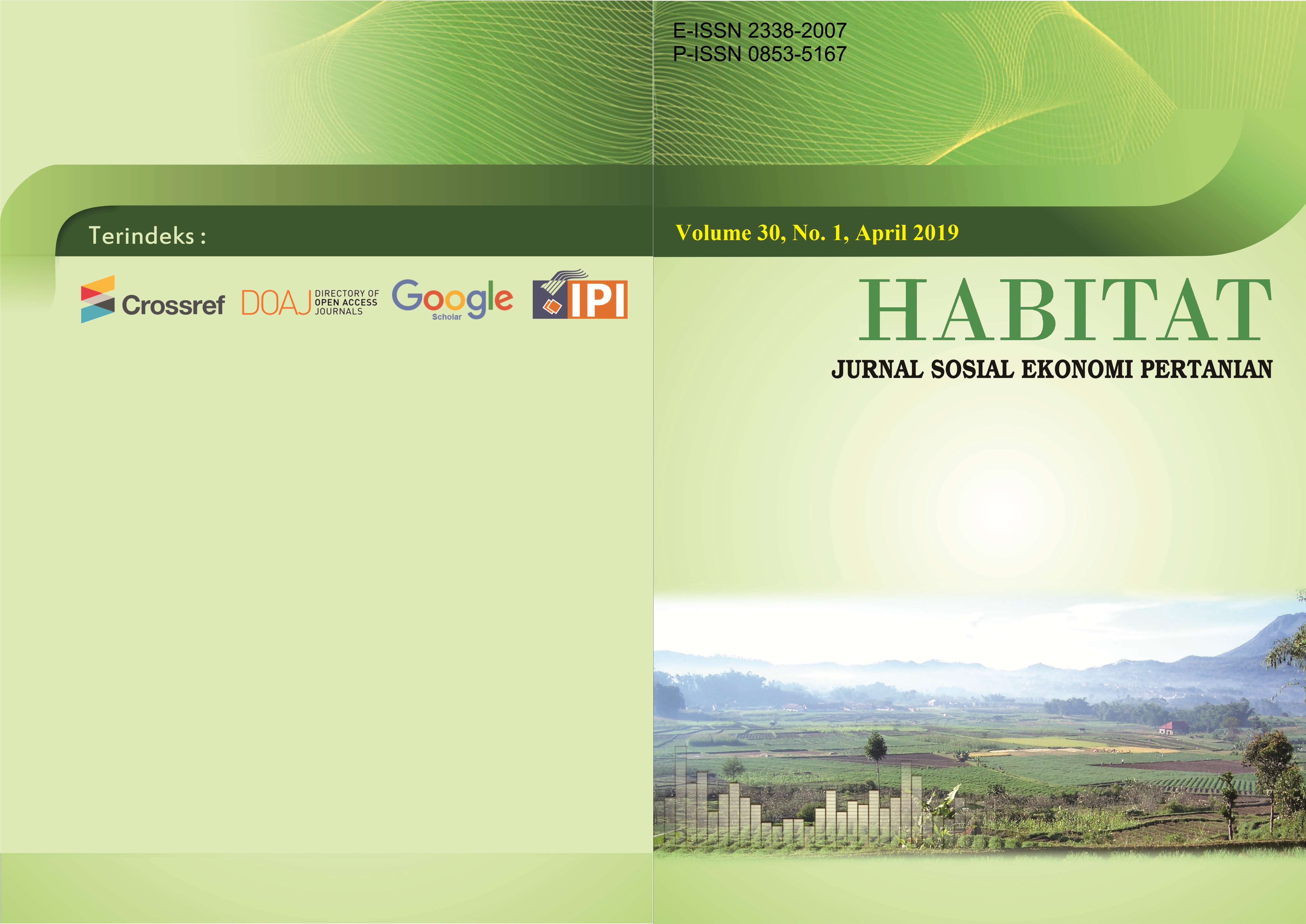 Downloads
How to Cite
Pratiwi, D. E., Ambayoen, M. A., & Hardana, A. E. (2019). Studi Pembiayaan Mikro Petani Dalam Pengambilan Keputusan Untuk Kredit Formal dan Kredit Nonformal. HABITAT, 30(1), pp.35–43. https://doi.org/10.21776/ub.habitat.2019.030.1.5
License
Authors who publish with this journal agree to the following terms
:
HABITAT
by
http://habitat.ub.ac.id/index.php/habitat/index
is licensed under a
Creative Commons Attribution-NonCommercial 4.0 International License
.
Authors are permitted and encouraged to post their work online (e.g., in institutional repositories or on their website) prior to and during the submission process, as it can lead to productive exchanges, as well as earlier and greater citation of published work (See
The Effect of Open Access
).