Analisis Pendapatan Usaha Kecil dan Menengah Yogurt Sehati Purwokerto
Keywords:
yogurt, rasa, kemasan, UKM, purwokerto, analisis pendapatan
Abstract
Yogurt sebagai salah satu produk olahan susu sudah banyak beredar dan diproduksi oleh industry besar, maupun industry rumah tangga/UKM. Pengembangan UKM yogurt membuka peluang untuk meningkatkan pendapatan rumah tangga dan kesejahteraan. Tujuan kegiatan ini adalah mennganalisis pendapatan UKM yogurt Sehati yang telah mendapatkan pendampingan melalui transfer pengetahuan dan ketrampilan dalam pengolahan susu menjadi produk yoghurt dengan berbagai varians kemasan. Penelitian ini dilaksanakan di UKM Yogurt SEHATI yang berlokasi di Keluarahan Purwonegoro, Kecamatan Purwokerto Utara Kabupaten Banyumas, Jawa Tengah dari bulan Maret sampai dengan Juli 2017. Model penelitian ini adalah penelitian aksi yakni dengan melakukan tindakan intervensi langsung terhadap obyek penelitian melalui transfer teknologi, kemudian diukur perubahan dari sisi income setelah proses transfer teknologi. Hasil kegiatan menunjukkan adanya perubahan income dan praktik dalam produksi yogurt dengan berbagai varians rasa dan kemasan. Terjadi peningkatan volume produksi yogurt rata-rata dari 5 L per hari meningkat menjadi 25 L perhari dengan variasi produk bermacam-macam. Perubahan kemasan produk berpengaruh positif terhadap persepsi dan minat konsumen yogurt. Perluasan jaringan pemasaran dilakukan dengan menggunakan system pemasaran online dengan menggunakan media sosial dan fanpage facebook. Berdasarkan analisis pendapatan diperoleh nilai keuntungan bersih Rp 26.776.943/tahun. Analisis efisiensi usaha menunjukkan nilai R/C ratio sebesar 1,07 dimana setiap Rp 1.000 atas biaya keseluruhan yang dikeluarkan maka akan memberikan penerimaan sebesar Rp 1.070 sehingga usaha tersebut layak untuk dijalankan karena jumlah penerimaan yang lebih besar dari biaya total.
References
Arioui, F., Ait Saada, D., & Cheriguene, A. (2017). Physicochemical and sensory quality of yogurt incorporated with pectin from peel of Citrus sinensis. Food science & nutrition, 5(2), 358-364.
Freitas, M. (2017). The benefits of yogurt, cultures, and fermentation. The Microbiota in Gastrointestinal Pathophysiology, 209–223. doi:10.1016/b978-0-12-804024-9.00024-0.
Hernanto, F. 2003. Ilmu Usaha Tani. Jakarta: Penebar Swadaya.
Jannah, A.M., A.M. Legowo, Y.B. Pramono, A.N. Al-Baarri, dan S.B.M. Abduh. Total Bakteri Asam Laktat, pH, Keasaman, Citarasa dan Kesukaan Yogurt Drink dengan Penambahan Ekstrak Buah Belimbing. Jurnal Aplikasi Teknologi Pangan 3 (2) : 7-11.
Koswara, S. 2009. Teknologi Pembuatan Yoghurt. eBookPangan.com.
Mistura, L., D'Addezio, L., Sette, S., Piccinelli, R., & Turrini, A. (2016). Diet quality of Italian yogurt consumers: an application of the probability of adequate nutrient intake score (PANDiet). International journal of food sciences and nutrition, 67(3), 232-238.
Meng, J. J., Qian, J., Jung, S. W., & Lee, S. J. (2018). Practicability of TTI application to yogurt quality prediction in plausible scenarios of a distribution system with temperature variations. Food science and biotechnology, 27(5), 1333-1342.
Mubyarto. 2003. Pengantar Ekonomi Pertanian. Jakarta: LP3ES.
O'Brien, Rory. 2002. An Overview of the Methodological Approach of Action Research. Faculty of Information Studies-University of Toronto. USA.
Rahayu, N. S., & Indrawati, S. (2014). IbM Kelompok Usaha Produk Olahan Susu Segar Di Dusun Boyong Desa Hargobinangun, Sleman Yogyakarta. Asian Journal of Innovation and Entrepreneurship, 3(03), 160-169.
Resnawati, H. 2015. Kualitas Susu Pada Berbagai Pengolahan dan Penyimpanan. Semiloka Nasional Prospek Industri Sapi Perah Menuju Perdagangan Bebas – 2020.
Soekartawi. 2006. Analisis Usaha Tani. Jakarta: UI Press.
Suzianti, A., Rengkung, S., Nurtjahyo, B., & Al Rasyid, H. (2015). An analysis of cognitiveË— based design of yogurt product packaging. Int. J. Technol, 6(4), 659.
Zhao, L., Feng, R., Ren, F., & Mao, X. (2018). Addition of buttermilk improves the flavor and volatile compound profiles of low-fat yogurt. LWT, 98, 9–17. doi:10.1016/j.lwt.2018.08.029
Zhu, Y., Wang, H., Hollis, J. H., & Jacques, P. F. (2015). The associations between yogurt consumption, diet quality, and metabolic profiles in children in the USA. European journal of nutrition, 54(4), 543-550.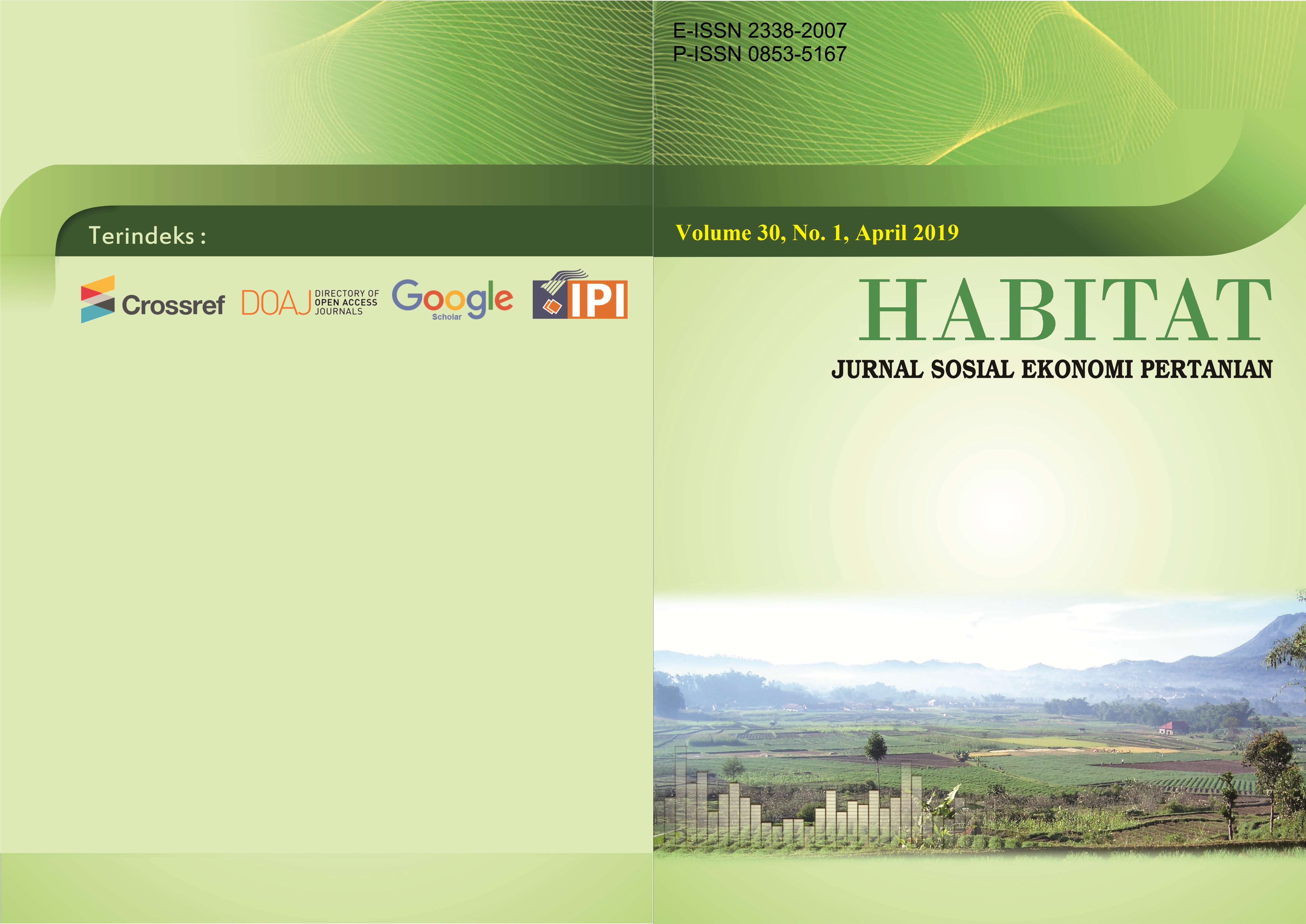 Downloads
How to Cite
Mudmainah, S., & Wahyudi, Y. (2019). Analisis Pendapatan Usaha Kecil dan Menengah Yogurt Sehati Purwokerto. HABITAT, 30(1), pp.16–25. https://doi.org/10.21776/ub.habitat.2019.030.1.3