The Strategy for Implementing Agricultural Extension Based on Cyber Extension in Malang Raya Region, Indonesia
Keywords:
cyber extension, agriculture extension, SWOT
Abstract
This study aimed to formulate a strategy for implementing agricultural extension based on cyber extension in Malang Raya region. This research was conducted in Malang raya region using purposive sampling technique. The analysis used to determine strategy priority for implementing agricultural extension used SWOT analysis. Based on internal analysis (IFAS) and external analysis (EFAS) implied that the position of cyber extension utilization by agricultural extension workers in the Malang Raya Region was in the area of strategy I, namely Aggressive Strategy. This depicted that the strength possessed can take advantage of opportunities and improve weaknesses optimally, so the determination of the strategy for optimizing the use of cyber extensions was more directed at aggressive strategies. Based on this study showed that the measures should be implemented such as the implementation of legislation has the greatest contribution, optimization of the utilization of information technology devices, optimization of utilization of the agricultural extension centre in each sub-district, and increasing competency and the professionalism of administrators in accordance with their respective duties and authorities.
References
Ahuja, V. 2011. Cyber Extention: A Convergence of Ict and agricultural Development. Global Media Journal-Indian Edition. 2 (2): 1-8.
Badan PPSDMP. 2010. Grand Design Sistem Informasi Penyuluhan Pertanian (Cyber Extension). Badan Penyuluhan dan Pengembangan SDM Pertanian. Kementerian Pertanian.
Gultom. D. T., Sumardjo, Sarwoprasojo S, Muyono. Pudji M. 2017. Strategi Pemenuhan Kebutuhan Informasi Pertanian Melalui Pemanfaatan Cyber Extension Di Propinsi Lampung. Jurnal Sosiohumaniora. Volume 19 No. 1 Maret 2017 : pp. 64-69.
Gultom, D. T., Sumardjo., Sarwoprasojo, S., Muyono. Pudji, M., 2016. The Roles of Cyber Extention Communication Media in Strengthening Horticulture Farmers in Facing Globalization in Lampung Province, Indonesia. International Journal of Sciences: Basic and Applied Research (IJSBAR) vol 42 (3) 104-117.
Fangohoi, L., Sugiyanto., Sukesi, K., & Cahyono, E. D. 2018. Establish The Perception Of Agricultural Extension workers Through Cyber Extension As The Media Information. Journal Of Socioeconomics and Development. Vol 1 (1). pp. 32-37
Harsoyo dan Subejo. 2012. Keterkaitan Isu Pembangunan Pertanian dan Pedesaan Kontemporer dengan Pendidikan Sosiologi dan Penyuluhan Pertanian. Makalah Lokakarya Nasional. 145-154.
Helmi, Z., Sumardjo., Purnaningsih, N., Tjitropranoto, P. 2014. Cyber Extension in Strengthening the Extension Workers' Readiness in the Regencies of Bekasi and Kuningan, West Java Province. International Journal of Sciences: Basic and Applied Research (IJSBAR) Vol 8 (1) :56-66.
Helmi, Z., Sumardjo., Purnaningsih, N., Tjitropranoto, P. 2013. Hubungan Kompetensi Penyuluh dengan Karakteristik Pribadi, Persepsi Penyuluh Terhadap Dukungan Kelembagaan dan Persepsi Penyuluh Terhadap Sifat Inovasi Cyber Extensión. Jurnal agro Ekonomi Vol 31(1):1-18.
Kim, J. M., Jeon, Y. U., Lim, J. H., & Yoo, Y. J. (2017). The Needs of Customer to Agricultural Extension Service and the Performance Level of Public Agricultural Extension Organization. Journal of Agricultural Extension and Community Development
Marliati., Sumardjo., Pang S. Asngari., Tjitropranoto, P., Saefuddin. A,. 2008. Faktor-Faktor Penentu Peningkatan Kinerja Penyuluh Pertanian Dalam Memberdayakan Petani (Kasus di Kabupaten Kampar Provinsi Riau). Jurnal Penyuluhan. Vol 4(2), pp. 92-99.
Mulyandari, R.S. H., Sumardjo., Lubis, DP., Panjaitan, NK. 2010. Implementasi Cyber Extension Dalam Komunikasi Inovasi Pertanian. Jurnal Informatika Pertanian. Vol 19 (2). 19-43.
Pramono, H., Fatchiya, A., dan Sadono, D. 2017. Kompetensi Penyuluh Tenaga Harian Lepas Tenaga Bantu Penyuluh Pertanian di Kabupaten Garut, Jawa Barat. Jurnal Penyuluhan.13(2): 194-209
Purwatiningsih, N.,A, Fatchiya, A.,Mulyandari, R.,S.,H. 2018. Pemanfaatan Internet dalam Peningkatan Kinerja Penyuluh Pertanian di Kabupaten Cianjur. Jurnal Penyuluhan. Vol 14 (1). 79-91.
Rangkuti, Freddy. 2015. Analisis SWOT: Teknik Membedah Kasus Bisnis. Gramedia Pustaka Utama. Jakarta.
Sumardjo., Baga., dan Mulyandari, 2010. Cyber Extension Peluang dan Tantangan Dalam Revitalisasi Penyuluhan Pertanian. IPB Press. Bogor.
Sumaryo, Kordiyana K., Rangga. 2017. Implementasi Cyber Extension Dalam Pengembangan Sumberdaya Manusia Pertanian: Kendala Yang Dihadapi DI Provinsi Lampung. Seminar Nasional IIB Darmajaya. Pp. 296-307.
Wanti, S. Taufiqurrahman., D.D. Rahayu. 2014. Analisis Strategi Keunggulan Bersaing Dengan Pendekatan Analisis SWOT pada Spartan Gym Pekanbaru. JOM Vekon 1(2).
Wicaksono, P., Sugiyanto, S., Purnomo, M. (2016). Faktor-faktor yang berkontribusi terhadap kinerja dan kompetensi penyuluh pertanian pada jenjang jabatan penyuluh pertanian ahli (kasus di Malang, Jawa Timur). Habitat .Vol 27(2), 85-93.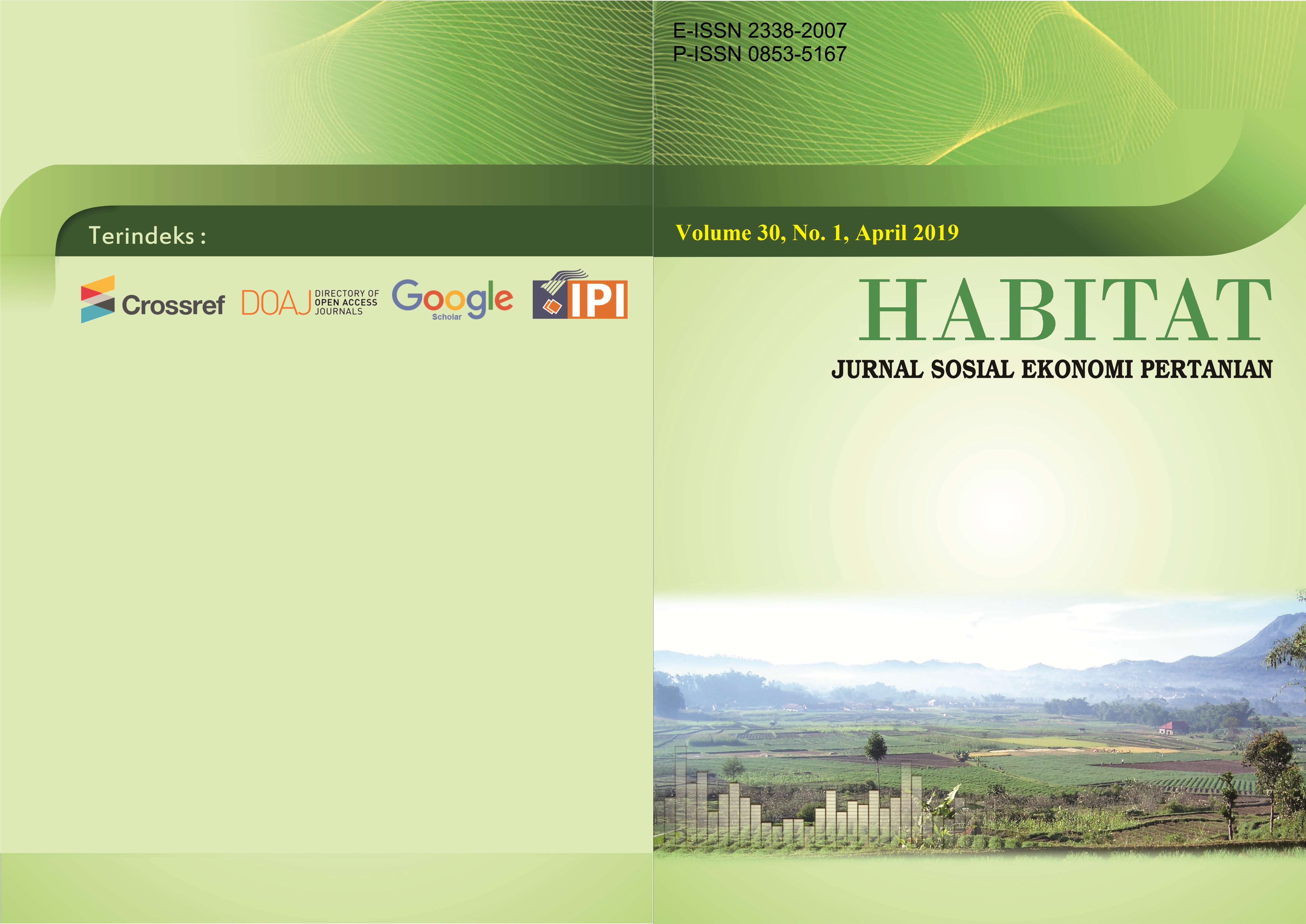 Downloads
How to Cite
Sabir, S., Sugiyanto, S., Sukesi, K., & Yuliati, Y. (2019). The Strategy for Implementing Agricultural Extension Based on Cyber Extension in Malang Raya Region, Indonesia. HABITAT, 30(1), pp.8–15. https://doi.org/10.21776/ub.habitat.2019.030.1.2
License
Authors who publish with this journal agree to the following terms
:
HABITAT
by
http://habitat.ub.ac.id/index.php/habitat/index
is licensed under a
Creative Commons Attribution-NonCommercial 4.0 International License
.
Authors are permitted and encouraged to post their work online (e.g., in institutional repositories or on their website) prior to and during the submission process, as it can lead to productive exchanges, as well as earlier and greater citation of published work (See
The Effect of Open Access
).