Measuring E-Service Quality In Agriculture Company
Keywords:
e-service, quality, confirmatory factor analysis
Abstract
Nowadays, E-Service Quality is known to be one of the keys that determines e-commerce success. Delivering quality in service becomes a very important strategy for marketers who try to offer different services in order to be able to compete with other companies. This study aimed to measure and evaluate the e-service quality of a agriculture company in Malang through three dimensions of e-service quality by Collier and Bienstock (2009), which were the dimensions of process, outcome and recovery. Data collection was carried out using an online survey, where the data collected was 41. Data were analyzed using confirmatory factor analysis. The results showed that the recovery dimension was the most influential dimension on consumer evaluation of e-service quality. This study gave recommendation to online shop managers to allocate more resources to the recovery dimension to improve consumer perceptions of e-service quality.
References
Carlson J. dan O'Cass A. 2010. Exploring The Relationships Between E-Service Quality, Satisfaction, Attitudes and Behaviours In Content-Driven E-Service Web Sites. Journal of Services Marketing. Vo.l 24 No. 2. Hal 112 – 127.
Chin, W. 1998. The Partial Least Squares Approach for Structural Equation Modelling. in Marcoulides, G. (Ed.). Modern Methods for Business Research. Laurence Erlbaum Associates. Mahwah. NJ. Hal. 295 – 336.
Collier, J. and Bienstock, C. 2006. Measuring service quality in e-retailing. Journal of Service Research. Vol. 8 No. 3. Hal 260 – 275.
Dobie, K., J. Grant., dan K Ready. 2001. Product Motivation and Purchasing Activity. Journal of Promotion Management. Vol 6. No 1-2. Hal 31 – 43
Goodwin C dan I Ross. 1992. Consumer Responses to Service Failures : Influence of Procedural and Interactional Fairness Perceptions. Journal of Business Research. Vol 25 Hal. 149 – 163.
Gounaris, S., S. Dimitriadis., V. Statakopoulos. 2010. An Examination of The Effects of Service Quality and Satisfaction on Customers' Behavioral Intentions in E-Shopping. Journal of Service Marketing. Vol 24 No 2. Hal 142 – 156.
Gregoire, Y, T M Tripp, and R Legoux. (2009) "When customer love turns into lasting hate: The effects of relationship strength and time on customer revenge and avoidance." Journal of Marketing 73, no. 6: 18–32.
Gummerus, J., Liljander, V., Pura, M., & Riel, A. (2004). Customer loyalty to content-based web sites: the case of an online health-care service. Journal of service marketing, 18 (3), 175-186.
Harris, K E, D Grewal, L A Mohr, and K L Bernhardt. (2006) "Consumer responses to service recovery strategies: The moderating role of online versus offline environment." Journal of Business Research 59, no. 4: 425-431.
Hofacker, C.F., Goldsmith, R.E., Bridges, E. and Swilley, E. 2007. E-Services: A Synthesis And Research Agenda. Journal of Value Chain Management. Vol. 1 No. 1/2. Hal 13 – 44.
Holloway, B B, and S E Beatty. (2003) "Service Failure in Online Retailing : A Recovery Opportunity." Journal of Service Research 6, no. 1: 92-105.
Kominfo. 2018. Jumlah Pengguna Internet 2017 Meningkat, Kominfo Terus Lakukan Percepatan Pembangunan Broadband (Online). https://kominfo.go.id/index.php/content/detail/12640/siaran-pers-no-53hmkominfo022018-tentang-jumlah-pengguna-internet-2017-meningkat-kominfo-terus-lakukan-percepatan-pembangunan-broadband/0/siaran_pers. Diakses tanggal 26 November 2018.
Lee, G. dan Lin, H. 2005. Customer Perceptions of E-Service Quality in Online Shopping. International Journal of Retail & Distribution Management. Vol. 33 No. 2. Hal 161 – 76.
Parasuraman, A., V A Zeithaml, dan L. Berry. 1985. A Conceptual Model of Service Quality and its Implications for Future Research. Journal of Marketing. Vol 49. Hal 41 – 50.
Smith, A, R Bolton, and J Wagner. (1999) "A Model of Customer Satisfaction with Service Encounters Involving Failure and Recovery." Journal of Marketing Research 36, no. 3: 356-372.
Spreng, R., Harrell, G. dan Mackoy, R. 1995. Service Recovery: Impact on Satisfaction and Intentions. Journal of Services Marketing. Vol. 9 No. 1. Hal 15 – 23.
Wrenn, B., W B Wrenn, D L Loudon, dan R E Stevens. 2002. Marketing Research : Text and Cases. New York. Best Business Book.
Zeithaml, V.A., Parasuraman, A. dan Malhotra, A. 2002. Service Quality Delivery Through Web Sites: A Critical Review of Extant Knowledge. Journal of the Academy of Marketing Science. Vol. 30 No. 4. Hal 362 – 375.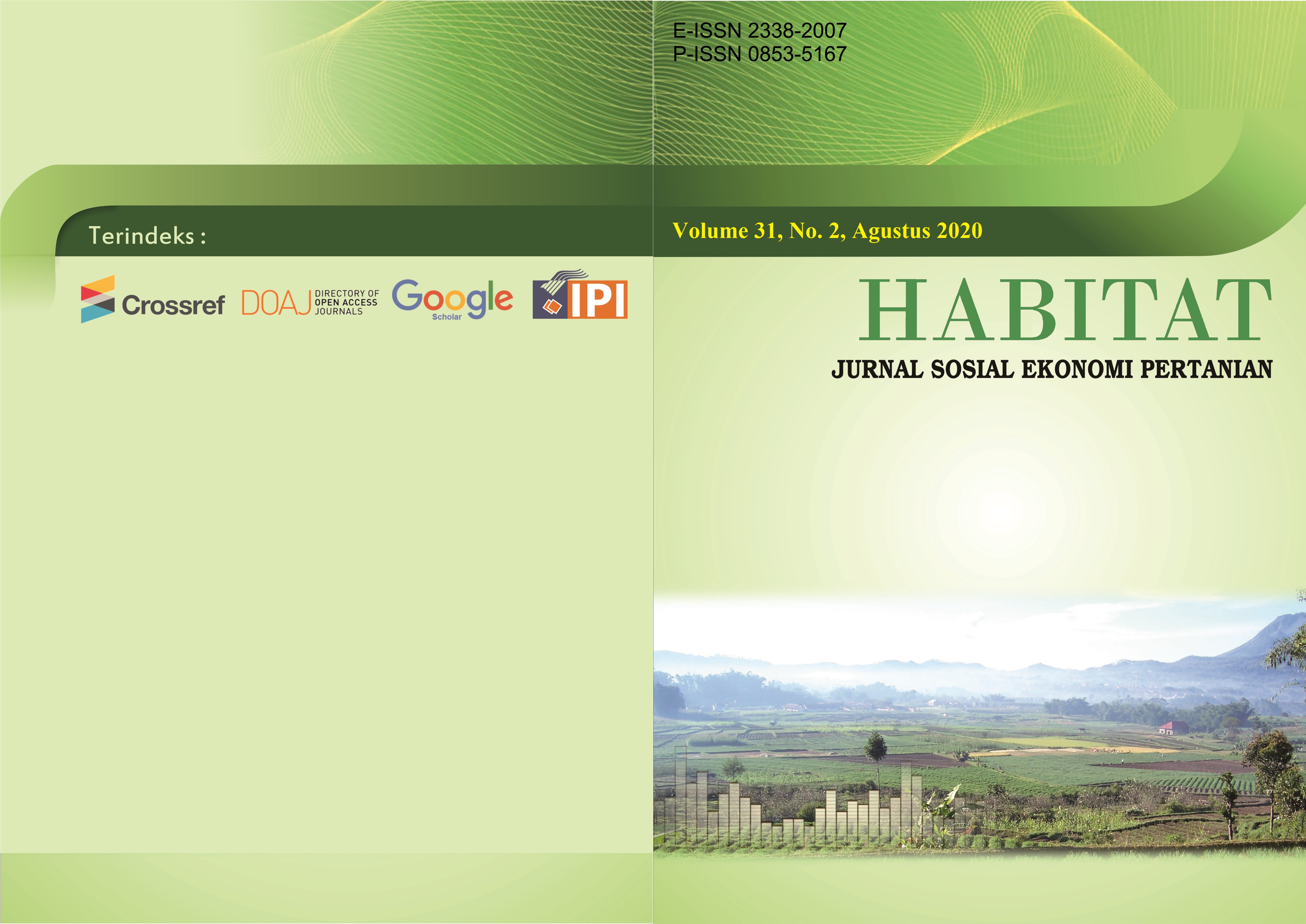 Downloads
How to Cite
Intan, D. R., Setiawan, B., & Shinta, A. (2020). Measuring E-Service Quality In Agriculture Company. HABITAT, 31(2), pp.48–54. https://doi.org/10.21776/ub.habitat.2020.031.2.6
License
Authors who publish with this journal agree to the following terms
:
HABITAT
by
http://habitat.ub.ac.id/index.php/habitat/index
is licensed under a
Creative Commons Attribution-NonCommercial 4.0 International License
.
Authors are permitted and encouraged to post their work online (e.g., in institutional repositories or on their website) prior to and during the submission process, as it can lead to productive exchanges, as well as earlier and greater citation of published work (See
The Effect of Open Access
).