Pekerjaan Alternatif Sebagai Strategi Adaptasi Nelayan terhadap Perubahan Iklim (Studi Kasus di Kecamatan Paiton, Kabupaten Probolinggo)
Keywords:
pekerjaan alternatif, PSM, pendapatan
Abstract
Penelitian ini dilaksanakan untuk mengetahui dampak pekerjaan alternatif sebagai strategi adaptasi perubahan iklim terhadap pendapatan nelayan. Propensity Score Matching (PSM) adalah metode yang digunakan, dengan tujuan untuk memperoleh nilai dari dampak pekerjaan alternatif terhadap pendapatan nelayan tanpa adanya bias dari setiap responden. Responden dalam penelitian ini yaitu nelayan kecil di Kecamatan Paiton, Kabupaten Probolinggo. Hasil analisis menunjukkan bahwa pekerjaan alternatif memiliki dampak positif terhadap pendapatan nelayan. dimana nelayan yang melakukan pekerjaan alternatif memiliki pendapatan yang lebih tinggi dibanding nelayan yang tidak melakukan pekerjaan alternatif. Hal ini menyiratkan bahwa perlu adanya pemerataan informasi terhadap seluruh nelayan terkait pentingnya melakukan pekerjaan alternatif.
References
Badjeck, Marie Caroline, Edward H. Allison, Ashley S. Halls, and Nicholas K. Dulvy. 2010. "Impacts of Climate Variability and Change on Fishery-Based Livelihoods.†Marine Policy 34(3):375–83.
Hyland, John J., Davey L. Jones, Karen A. Parkhill, Andrew P. Barnes, and A. Prysor Williams. 2016. Farmers' Perceptions of Climate Change: Identifying Types. Vol. 33.
Patriana, Ratna. 2013. "Pola Adaptasi Nelayan Terhadap Perubahan Iklim : Studi Kasus Nelayan Dusun Ciawitali , Desa Pamotan , Kecamatan Kalipucang , Kabupaten Ciamis , Jawa Barat Adaptation Pattern of Fishers in Addressing Climate Change : A Case Study of Fishers in Ciawitali ,.†Sosek KP (2):11–23.
Priyonggo, Suseno. 1997. "Pengaruh Faktor Sosial Ekonomi Terhadap Pekerjaan Sampingan Masyarakat Pedesaan *).†Journal of Emerging Markets 2(1).
Rosenbaum, P. R. and D. .. Rubin. 1983. "The Central Role of the Propensity Score in Observational Studies for Causal Effects.†Biometrika 70(1):41–55.
Satriawan, Bondan and Henny Oktavianti. 2012. "Menggunakan Model Tindakan Kolektif Kelembagaan Pertanian.†Jurnal Ekonomi Pembangunan 13(1):96–112.
Senapati, Sibananda and Vijaya Gupta. 2017. "Socio-Economic Vulnerability Due to Climate Change: Deriving Indicators for Fishing Communities in Mumbai.†Marine Policy 76(November 2014):90–97.
Shaffril, Hayrol Azril Mohamed, Asnarulkhadi Abu Samah, and Jeffrey Lawrence D'Silva. 2017. "Climate Change: Social Adaptation Strategies for Fishermen.†Marine Policy 81(March 2016):256–61.
Shahidur R. Khandker Gayatri B. Koolwal Hussain A. Samad. 2010. Handbook on Impact Evaluation Quantitative Methods and Practices. Vol. 1.
Thavaneswaran, Arane and Lisa Lix. 2008. "Propensity Score Matching in Observational Studies Author : Arane Thavaneswaran Corresponding Author : Lisa Lix Date : April 22 , 2008 Propensity Score Matching in Observational Studies History of PSM.†Centre for Manitoba Health Policy.
Westland, Lena, Florence Poulain, Hans Bage, and Raymon van Anrooy. 2007. Disaster Response and Risk Management in the Fisheries Sector.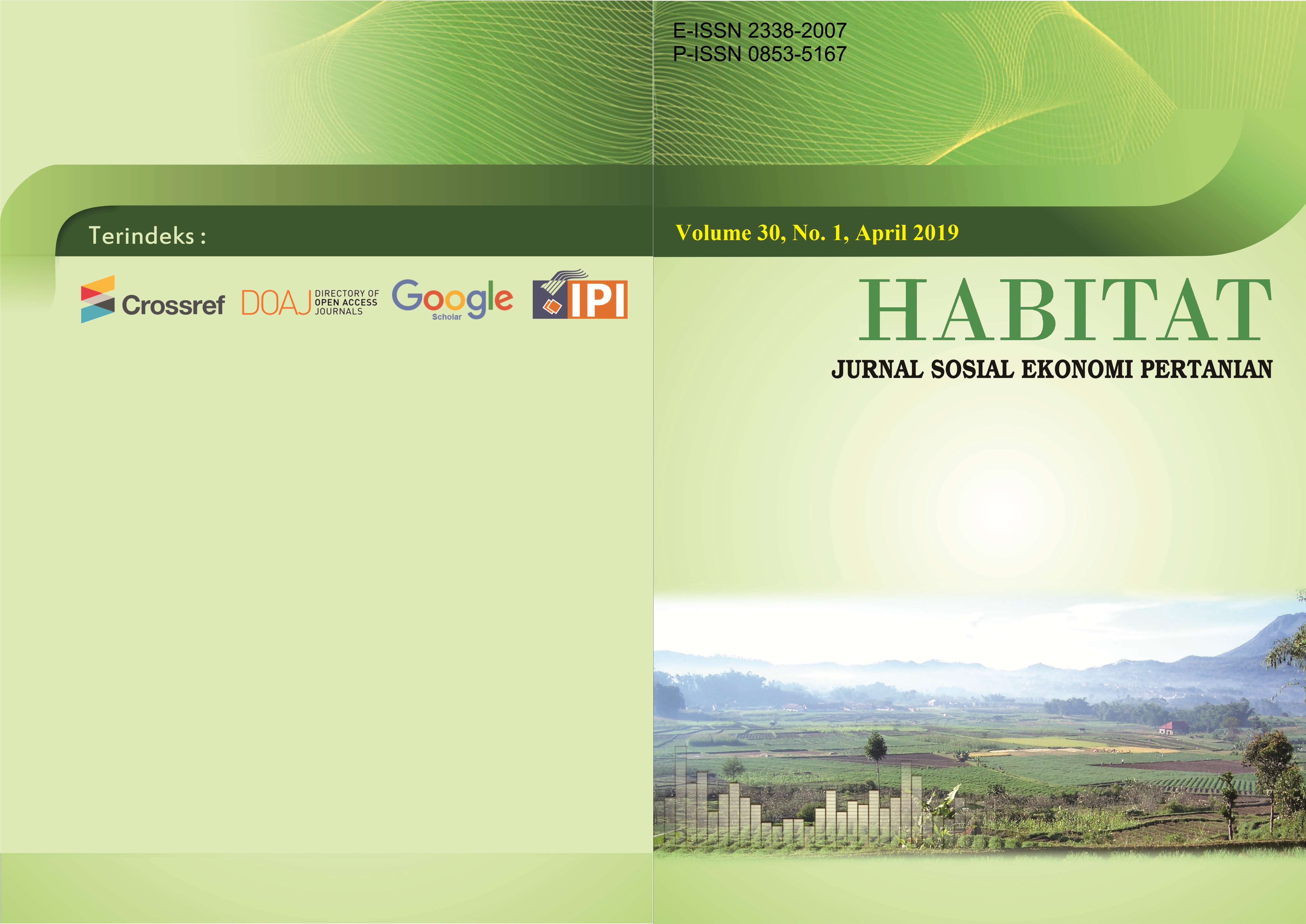 Downloads
How to Cite
Rahman, M. S., Toiba, H., & Efani, A. (2019). Pekerjaan Alternatif Sebagai Strategi Adaptasi Nelayan terhadap Perubahan Iklim (Studi Kasus di Kecamatan Paiton, Kabupaten Probolinggo). HABITAT, 30(1), pp.1–7. https://doi.org/10.21776/ub.habitat.2019.030.1.1
License
Authors who publish with this journal agree to the following terms
:
HABITAT
by
http://habitat.ub.ac.id/index.php/habitat/index
is licensed under a
Creative Commons Attribution-NonCommercial 4.0 International License
.
Authors are permitted and encouraged to post their work online (e.g., in institutional repositories or on their website) prior to and during the submission process, as it can lead to productive exchanges, as well as earlier and greater citation of published work (See
The Effect of Open Access
).