Analisis Faktor-Faktor yang Mempengaruhi Niat Pembelian Sayur Organik (Kasus Ibu Rumah Tangga di Kota Malang)
Keywords:
sayur organik, niat pembelian
Abstract
Makanan organik diseluruh dunia semakin populer dan konsumen makanan organik sedang meningkat. Namun, informasi tentang perilaku konsumen terhadap pembelian makanan organik khususnya sayur organik di negara berkembang seperti di Indonesia, masih sangat kurang. Sehingga, tujuan penelitian ini yaitu meneliti faktor-faktor apasaja yang mempengaruhi niat pembelian sayur organik khususnya ibu rumahtangga. Lokasi penelitian dilakukan di Kelurahan Sawojajar yang dipilih secara purposive. Sampel penelitian merupakan ibu rumah tangga sampel berjumlah 120 orang yang dipilih secara purposive. Metode analisis data menggunakan Stuctural Equation Modeling (SEM) dengan program AMOS. Hasilnya menunjukkan, pengetahuan dan informasi pada label sayur organik berpengaruh positif dan signifikan terhadap sikap, kemudian ketiga variabel theory planned behavior yaitu sikap, norma subjektif dan persepsi kontrol perilaku juga terbukti berpengaruh positif dan signifikan terhadap niat pembelian ibu rumahtangga pada sayur organik.
References
Ajzen, Icek. 2008. "Measuring Oral Health Behaviour in Flemish Health Care Workers: An Application of the Theory of Planned Behaviour.†Community Dental Health 25(2):107–14.
AOI. 2015. "Pertumbuhan Pangan Organik Nasional Hanya 5 Persen.â€
AOI. 2017. Statistik Pertanian Organik Indonesia 2016. Vol. 39.
Bourlakis, Michael A. and Paul W. H. Weightman. 2011. Food Supply Chain Management.
Chan, Ricky Y. K. 2001. "Determinants of Chinese Consumers ' Green Purchase Behavior.†18(April 2001):389–413.
Dean, Moira, Monique M. Raats, and Richard Shepherd. 2008. "Moral Concerns and Consumer Choice of Fresh and Processed Organic Foods.†Journal of Applied Social Psychology 38(8):2088–2107.
Ferdinand. 2005. Metode Penelitian Manajemen: Pedoman Penelitian Untuk Skripsi, Tesis Dan Disertai Ilmu Manajemen. 5th ed. semarang.
IFOAM. 2017. The Word of Organic Agriculture Statistic and Emerging Trends 2017. Jerman: FIBL.
Kalafatis, Stavros P., Michael Pollard, Robert East, and Markos H. Tsogas. 1999. Green Marketing and Ajzen's Theory of Planned Behaviour: A Cross-Market Examination. Vol. 16.
Kim, Hee Yeon and Jae Eun Chung. 2011. "Consumer Purchase Intention for Organic Personal Care Products.†Journal of Consumer Marketing 28(1):40–47.
Magistris, Tiziana and Gracia, Azucena. 2008. "The Decision to Buy Organic Food Products in Southern Italy.†Birtish Food Journal 110(9):929–47.
Maichum, Kamonthip, Surakiat Parichatnon, and Ke-chung Peng. 2017. "Developing An Extended Theory Of Planned Behavior Model To Investigate Consumers ' Consumption Behavior Toward Organic Food : A Case Study In Thailand.†International Journal of Scientific & Technology Research 6(01):72–80.
Mayrowani, Henny. 2016. "Pengembangan Pertanian Organik Di Indonesia.†Forum Penelitian Agro Ekonomi 30(2):91–108.
Priambodo, Lutfhan Hadhi and Mukhamad Najib. 2014. "Analisis Kesediaan Membayar ( Willingness to Pay ) Sayuran Organik Dan Faktor-Faktor Yang Mempengaruhinya.†Jurnal Manajemen Dan Organisasi 5(1):1–14.
Solimun. 2003. "Multivariate Analysis Structural Equation Modelling (SEM) Lisrel Dan Amos.†Fakultas Matematika Dan Ilmu Pengetahuan.
Syukur, Muhamad. 2016. "Pengembangan Pertanian Organik Di Indonesia.†IPB Press.
Tarkiainen, Anssi and Sanna Sundqvist. 2005. "Subjective Norms, Attitudes and Intentions of Finnish Consumers in Buying Organic Food.†British Food Journal 107(11):808–22.
Teng, Chih Ching and Yu Mei Wang. 2015. "Decisional Factors Driving Organic Food Consumption: Generation of Consumer Purchase Intentions.†British Food Journal 117(3):1066–81.
Yiridoe, Emmanuel K., Samuel Bonti-Ankomah, and Ralph C. Martin. 2005. "Comparison of Consumer Perceptions and Preference toward Organic versus Conventionally Produced Foods: A Review and Update of the Literature.†Renewable Agriculture and Food Systems 20(04):193–205.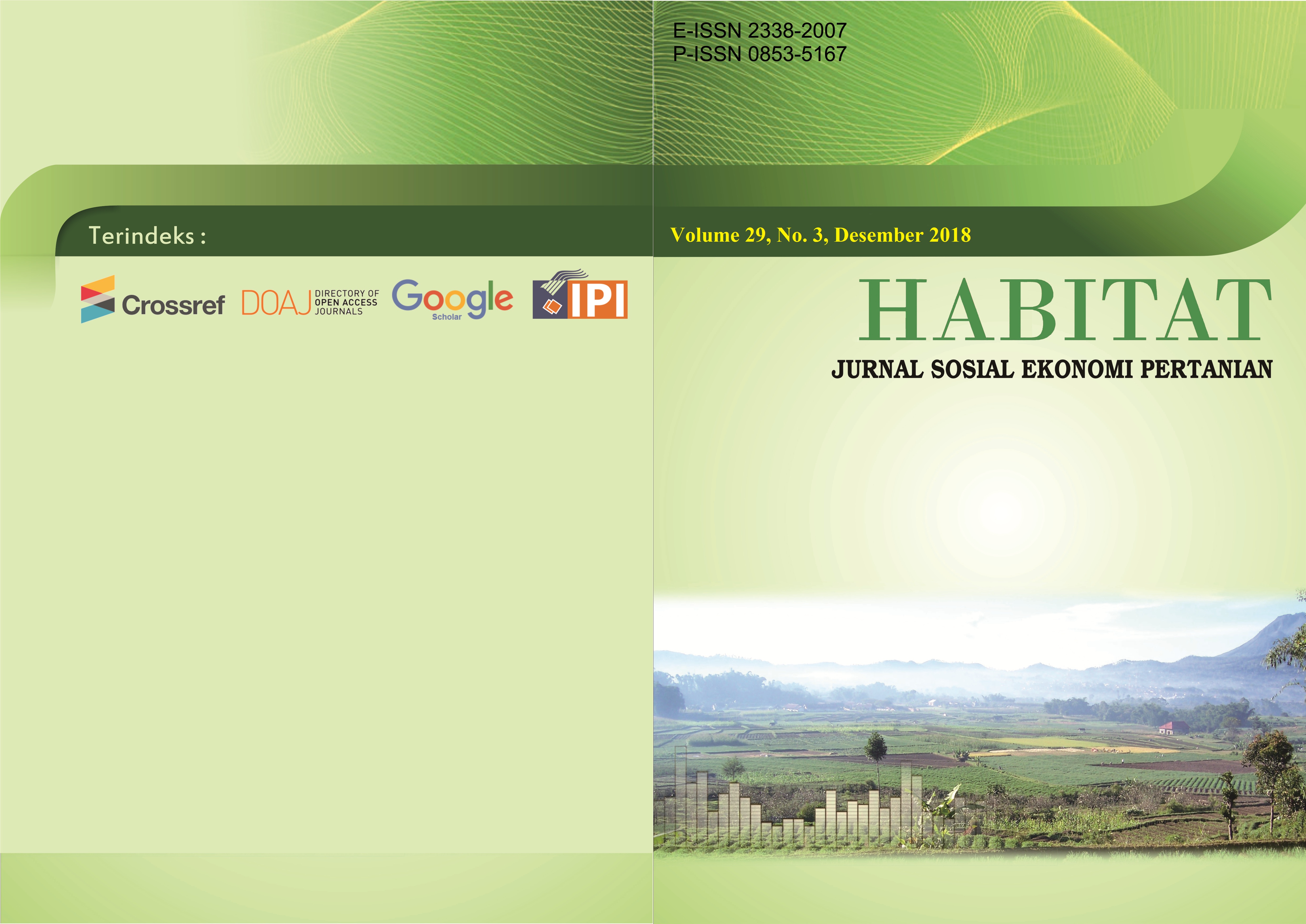 Downloads
How to Cite
Susanti, R. I., Muhaimin, A. W., & Toiba, H. (2018). Analisis Faktor-Faktor yang Mempengaruhi Niat Pembelian Sayur Organik (Kasus Ibu Rumah Tangga di Kota Malang). HABITAT, 29(3), pp.122–128. https://doi.org/10.21776/ub.habitat.2018.029.3.15
License
Authors who publish with this journal agree to the following terms
:
HABITAT
by
http://habitat.ub.ac.id/index.php/habitat/index
is licensed under a
Creative Commons Attribution-NonCommercial 4.0 International License
.
Authors are permitted and encouraged to post their work online (e.g., in institutional repositories or on their website) prior to and during the submission process, as it can lead to productive exchanges, as well as earlier and greater citation of published work (See
The Effect of Open Access
).