Analisis Pengaruh Electronic Word of Mouth (eWOM) Terhadap Keputusan Berkunjung ke Agrowisata Café Sawah Pujon Kidul
Keywords:
electronic word of mouth, partial least square, keputusan berkunjung, desa wisata
Abstract
Penelitian ini bertujuan untuk menganalisis pengaruh Electronic Word of Mouth (eWOM) terhadap keputusan Berkunjung di Café Sawah, Desa Wisata Pujon Kidul. eWOM dalam penelitian ini dilihat berdasarkan dimensi Concern for Others (CFO), Expressing Positive Feelings (EPF), Helping the Company (HC), dan Economic Incentives (ECI). Penelitian ini menggunakan pendekatan kuantitatif. Sampel yang digunakan sebanyak 65 responden yang merupakan pengunjung Café Sawah dan pengguna media sosial instagram. Teknik penarikan sampel dilakukan dengan non-probability sampling menggunakan metode accidental sampling. Analisis data penelitian menggunakan metode Structural Equation Modeling-Partial Least Square (SEM-PLS) dengan pendekatan WarpPLS. Hasil penelitian menunjukkan bahwa Concern for Others, Expressing Positive Feelings, Helping the Company, dan Economic Incentives memiliki pengaruh positif dan signifikan terhadap keputusan berkunjung yang ditunjukkan dengan nilai koefisien jalur bernilai positif (0,213; 0,284; 0,391; dan 0,341) dan nilai p-value masing-masing bernilai ≤0,05. Hasil nilai R-squared yang dihasilkan dalam penelitian juga sebesar 0,670 yang termasuk dalam kriteria model kuat (≤0,70).
References
Canhoto, A. I., dan Clark, M. (2013). Customer Service 140 Characters at a Time–The Users' Perspective. Journal of Marketing Management, 29(5/6), 522–544.
Chevalier, J., dan Mayzlin, D. (2006). The Effect of Word of Mouth on Sales: Online Book Reviews. Journal of Marketing Research, 43(3), 345–354.
Erkan, I., dan Evans, C. (2016). The Influence of eWOM in Social Media on Consumers' Purchase Intentions: An Extended Approach to Information Adoption. Computers in Human Behavior, 61, 47–55.
Gunelius, S. (2011). 30 Minute Social Media Marketing: Step by Step Techniques to Spread the Words about your Business. USA: McGraw-Hill.
Hasan, A., dan Setiyaningtyas, N. W. (2015). Pengaruh Electronic Word of Mouth pada Media Sosial Facebook terhadap Keputusan Berkunjung ke Desa Wisata Nglanggeran Gunung Kidul. Jurnal Media Wisata, 13(1), 224– 238.
Huyen, T. T., dan Costello, J. (2017). Quality versus Quantity: An Investigation into Electronic Word of Mouth's Influence on Consumer Buying Intention. Journal of Promotional Communications, 5(2),
–155.
ILO (International Labour Organization). (2012). Rencana Strategis Pariwisata Berkelanjutan dan Green Jobs untuk Indonesia. Jakarta: ILO Country Office.
Jeong, E., dan Jang, S. (2011). Restaurant Experiences Triggering Positive Electronic Word of Mouth (eWOM) Motivations. International Journal of Hospitality Management, 30, 356–366.
Kim, E., Sung, Y., dan Kang, H. (2014). Brand Followers' Retweeting Behavior on Twitter: How Brand Relationships Influence Brand Electronic Word of Mouth. Computers in Human Behavior, 37, 18–25.
Ladhari, R., Brun, I., dan Morales, M. (2008). Determinants of Dining Satisfaction and Postdining Behavioral Intentions. International Journal of Hospitality Management, 27(4), 563–573.
Latan, H., dan Ghozali, I. (2016). Partial Least Squares Konsep. Metode, dan Aplikasi Menggunakan Program WarpPLS 5.0 (Third Edition). Semarang: Badan Penerbit Universitas Diponegoro.
Lin, C., Wu, Y., dan Chen, J. V. (2013). Electronic Word of Mouth: The Moderating Roles of Product Involvement and Brand Image. Proceedings of 2013 International Conference on Technology Innovation and Industrial Management, pp. 29-47. Phuket, Thailand.
Liputan6. (2017). Indonesia Pasar Terbesar Instagram di Asia dengan 45 Juta User. Retrieved December 18, 2017, from http://tekno.liputan6.com/read/3036304/.
Rachmalika, B. R. A., Kumadji, S., dan Mawardi, M. K. (2015). Analisis Faktor-faktor Pembentuk Electronic Word of Mouth dan Pengaruhnya terhadap Keputusan Pembelian pada Restoran Hakata Ikkousha Jakarta. Jurnal Administrasi Bisnis (JAB),
(1).
Shimp, T. A. (2007). Advertising, Promotion, and Other Aspects of Integrated Marketing Communications (Seventh Edition). USA: Thomson South-Western.
Susilawati, H. (2017). Pengaruh Electronic Word of Mouth terhadap Keputusan Berkunjung di Sindu Kusuma Edupark. Jurnal Khasanah Ilmu, 8(2), ISSN: 2087 – 0086.
Thurau, T. H., Gwinner, K. P., Walsh, G., dan Gremler, D. D. (2004). Electronic Word of Mouth Via Consumer-Opinion Platforms: What Motivates Consumers Articulate Themselves on The Internet. Journal of Interactive Marketing, 18(1), 38-52.
Tourism Business. (2017). Tren Pariwisata Indonesia Tahun 2017, seperti Apa Kecenderungannya. Retrieved November 15, 2017, from http://www.prasmultourism.com/2017/06/27/tren-pariwisata-indonesia-tahun-2017/.
Tseng, C. H., Kuo, H. C., dan Chen, J. M. (2013). The Relationship among Advertisement, Electronic Word of Mouth, and Purchase Intention of Virtual Community Members. Proceedings for the Northeast Region Decision Sciences Institute, pp. 28–50.
Wien, A. H., dan Olsen, S. O. (2014). Understanding the Relationship between Individualism and Word of Mouth: A Self-Enhancement Explanation. Psychology and Marketing, 31(6), 416–425.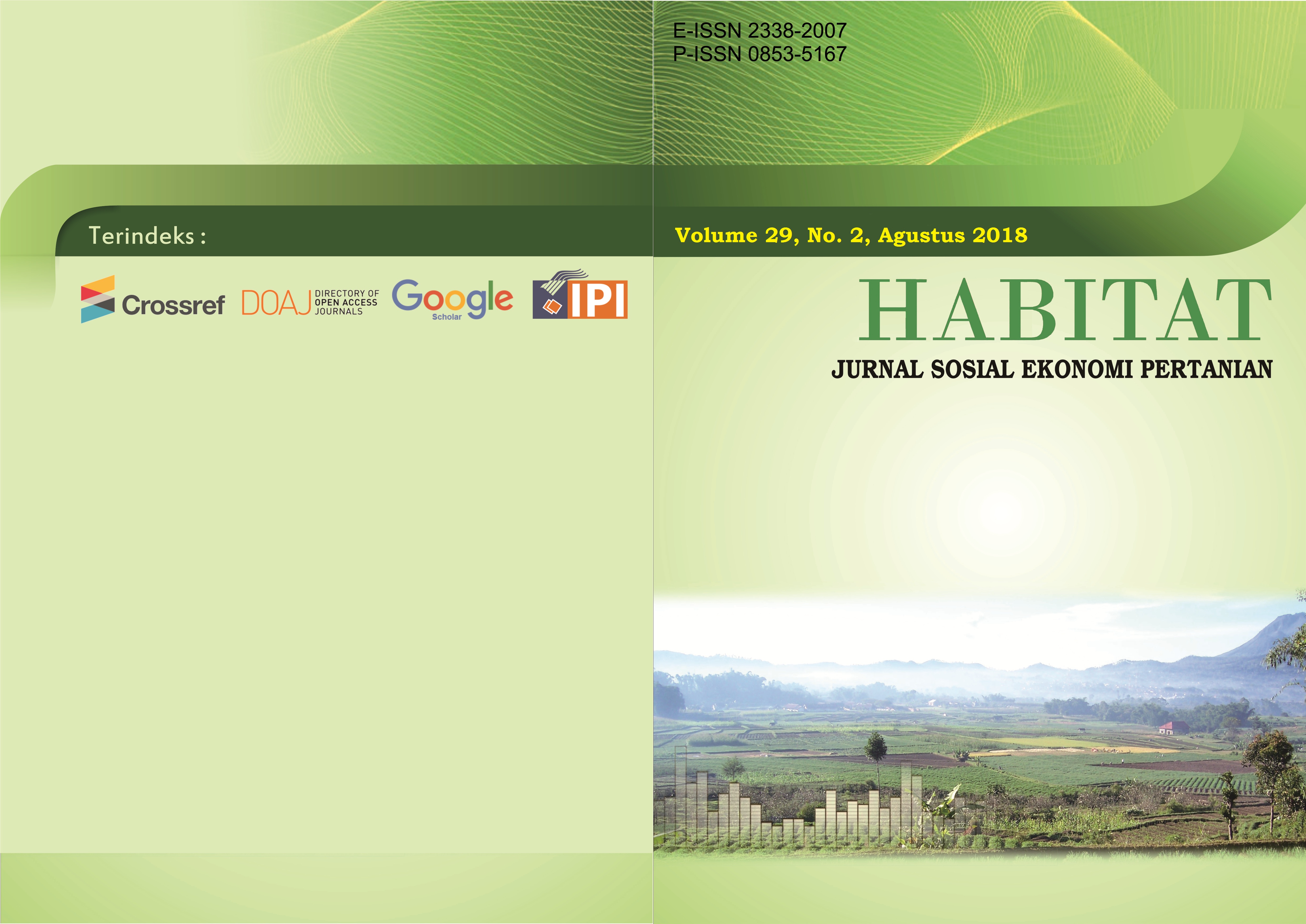 Downloads
How to Cite
Kumalasari, R. D., Gutama, W. A., & Pratiwi, D. E. (2018). Analisis Pengaruh Electronic Word of Mouth (eWOM) Terhadap Keputusan Berkunjung ke Agrowisata Café Sawah Pujon Kidul. HABITAT, 29(2), pp.65–75. https://doi.org/10.21776/ub.habitat.2018.029.2.8