Farmer Satisfaction Analysis on Pseudomonas Fluorescens (PF) Biological Agent Usage of Red Pepper Commodity (A survey conducted at Junrejo Village, Batu)
Keywords:
consumer satisfaction, biological agent, chili
Abstract
Consumer satisfaction is the level of feeling perceived after using a product or service that is very important for the company. The purpose of this study is to analyze the attributes considered and to analyze the level of satisfaction of chili farmers that use Pseudomonas fluorescens (PF) biological agents. This study uses Importance Performance Analysis (IPA) and Customer Satisfaction Index (CSI). The results reveal that there are 5 attributes of PF biological agents that the farmers choose, i.e. pest and disease control, eco-friendly, ease of application, instructions manual, and ease of obtaining. The result obtained from the calculation of CSI is 71%, so the chili farmers or the consumer are satisfied with PF biological agents.
References
Badan Pusat Statistik. (2016). Konsumsi per Kapita dalam Rumah Tangga Setahun menurut Hasil Susenas (sayur-mayur). Retrieved Desember 19, 2016, from Kementrian Pertanian RI: www.pertanian.go.id.
Andayani, S. A. and Rusnadiatman, N. (2013) 'Jurnal Ilmu Pertanian dan Peternakan Volume 1 Nomor 2 Desember 2013', 1(1997), pp. 10–34.
Diyahya, I. et al. (2016) 'Lubuk Pinang Kabupaten Mukomuko Analysis of Satisfaction Level Corn Farmers to Their Marketing Institution Services in Subdistrict of Lubuk Pinang District of Mukomuko', Agrisep, 16(1), pp. 45–58.
Erna, F. (2005) 'Atribut Produk Yang Dipertimbangkan Dalam Pembelian Kosmetik Dan Pengaruhnya Pada Kepuasan Konsumen Di Surabaya', Jurnal Manajemen dan Kewirausahaan, 7, p. pp.139-151. Available at: http://puslit2.petra.ac.id/ejournal/index.php/man/article/view/16360.
Fandos, C. and Flavián, C. (2006) 'Intrinsic and extrinsic quality attributes, loyalty and buying intention: an analysis for a PDO product', British Food Journal, 108(8), pp. 646–662. doi: 10.1108/00070700610682337.
Fornell, C. et al. (1996) 'The American Customer Satisfaction Index : Nature , Purpose , and Findings The American Customer Satisfaction Index : Nature , Purpose , and', Journal of Marketing, 60(4), pp. 7–18.
Ganiyu, R. A., Uche, I. I. and Elizabeth, A. O. (2012) 'Is Customer Satisfaction an Indicator of Customer Loyalty ?', Australian Journal of Business and Management Research, 2(7), pp. 14–20.
Husnain, Dedi Nursyamsi, dan J. P. (2014) 'Penggunaan Bahan Agrokimia Dan Dampaknya Terhadap Pertanian Ramah Lingkungan', Pengelolaan Lahan Pada Berbagai Ekosistem Mendukung Pertanian Ramah Lingkungan., (January), pp. 7–45.
Janti, S. (2014) 'Analisis Validitas Dan Reliabilitas Dengan Skala Likert Terhadap Pengembangan Si/Ti Dalam Penentuan Pengambilan Keputusan Penerapan Strategic Planning Pada Industri Garmen', in Prosiding Seminar Nasional Aplikasi Sains & Teknologi (SNAST), pp. 155–160.
Mustikarini, F. and Simanjuntak, M. (2014) 'Satisfaction and Loyalty to Pesticides among Paddy Farmers Abstract', 7(2), pp. 93–102.
Oktaviani, R. W. and Suryana, R. N. (2006) 'Analisis Kepuasan Pengunjung Dan Pengembangan Fasilitas Wisata Agro ( Studi Kasus di Kebun Wisata Pasirmukti , Bogor )', Jurnal Argo Ekonomi, 24(1), pp. 41–59.
Soenandar dan Tjachjono. 2012. Membuat Pestisida Organik. Jakarta: Agromedia Pustaka.
Supranto. 2001. Pengukuran Tingkat Kepuasan Pelanggan untuk Menaikkan Pangsa Pasar. Jakarta: Rineka Cipta.
Supranto. 2011. Pengukuran Tingkat Kepuasan Pelanggan untuk Menaikkan Pangsa Pasar (Cetakan keempat). Jakarta: Rineka Cipta.
Swastika, N., Yanto, T. and Hartati, A. (2013) 'Performansi Kualitas Atribut Beras Organik dan Tingkat Kepuasan Konsumen Beras Organik di Kabupaten Sragen', Agrin, 17(2), pp. 103–112.
Tjiptono, F. 2008. Strategi Pemasaran. Yogyakarta: Andi.
Wiryanta, B. 2002. Bertanam Cabai Pada Musim Hujan. Jakarta: AgroMedia Pustaka.
Yola, M. and Budianto, D. (2013) 'Pelayanan Dan Harga Produk Pada Supermarket Dengan Menggunakan Metode Importance Performance Analysis ( Ipa )', Optimasi Sistem Industri, pp. 301–309.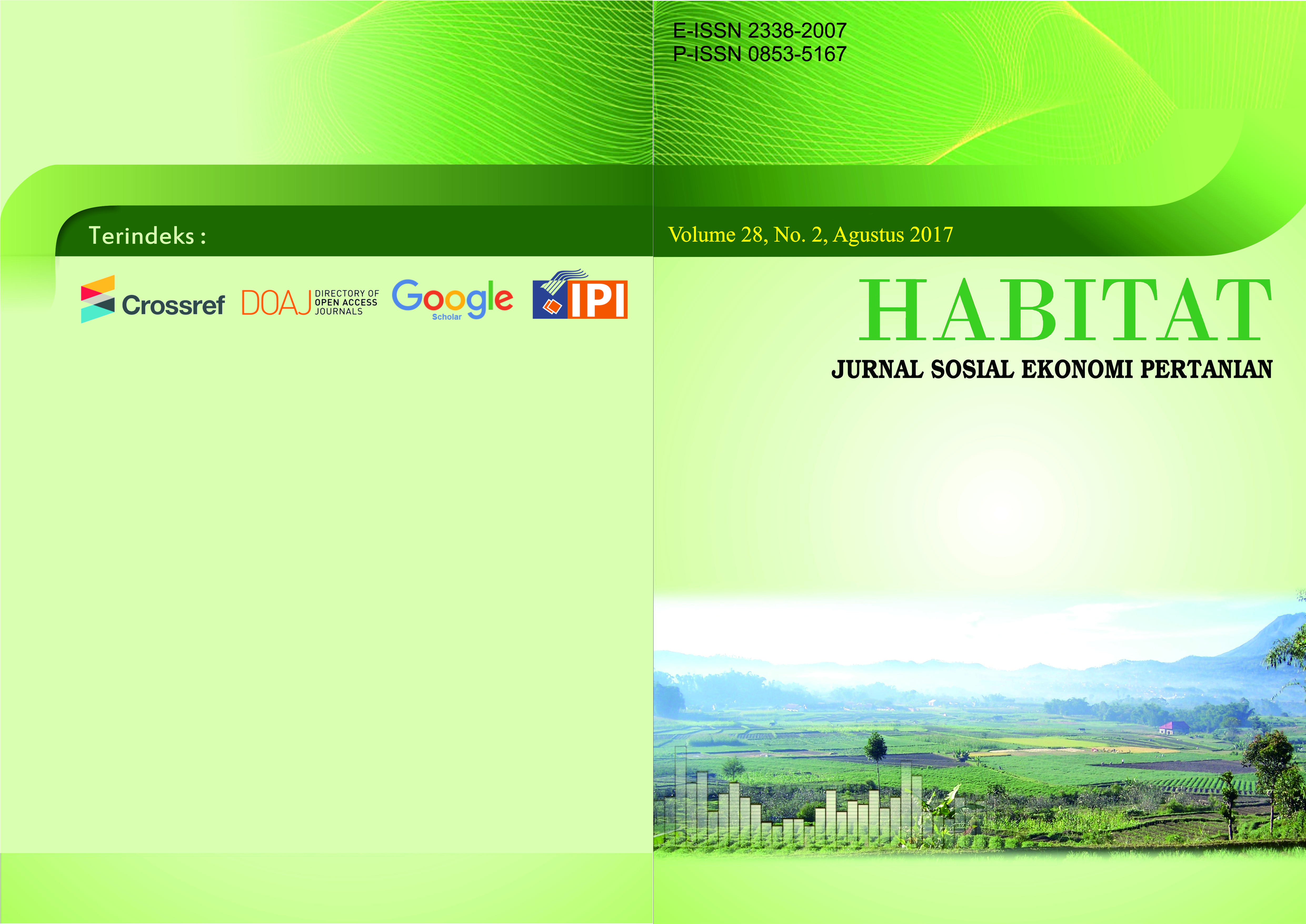 Downloads
How to Cite
Dirgantari, A. S., & Anindita, R. (2017). Farmer Satisfaction Analysis on Pseudomonas Fluorescens (PF) Biological Agent Usage of Red Pepper Commodity (A survey conducted at Junrejo Village, Batu). HABITAT, 28(2), pp.61–68. https://doi.org/10.21776/ub.habitat.2017.028.2.9