Pendekatan Pengendalian Fluktuasi Harga Tandan Buah Segar Terhadap Pendapatan Petani Kelapa Sawit
Keywords:
Pengendalian, harga TBS, fluktuasi, pendapatan, petani, kelapa sawit
Abstract
Penelitian ini dilakukan pada lahan rawa gambut Talang Sepucuk Kabupaten OKI dengan tujuan untuk membuat pendekatan pengendalian fluktuasi harga TBS terhadap pendapatan petani kelapa sawit. Pengambilan sampling dilakukan secara sengaja (purposive), data dan informasi direkam menggunakan kuisioner terstruktur (sistematis). Data penelitian diolah menggunakan program SPSS version 21 dan dilanjutkan dengan analisis SWOT. Hasil penelitian menyimpulkan bahwa tidak terdapat perbedaan produksi TBS yang nyata antara petani plasma dan petani lokal karena semua petani menggunakan input produksi yang sama. Pendapatan petani berbeda nyata dimana pendapatan petani plasma lebih besar (Rp29,33 Juta/ha/tahun) dan petani lokal sebesar Rp22,67 Juta/ha/tahun, demikian juga penerimaan petani berbeda nyata yang disebabkan oleh perbedaan harga TBS, walaupun produksi petani plasma lebih rendah dari petani lokal. Dua grand strategi dalam pengendalian harga TBS, yaitu: (1) Pemerintah harus menetapkan kebijakan harga TBS untuk semua petani kelapa sawit, dan (2) Pada saat terjadi penurunan harga TBS, maka petani kelapa sawit perlu merawat lahan kelapa sawit agar jumlah TBS dapat meningkat dan melakukan usahatani lain.
References
Bahari, Esdwin. 2014. Analisis Strategic Peningkatan Nilai Ekonomi Sawit di Provinsi Lampung. Prosiding Seminar Bisnis & Teknologi, hal 280-290, Bandar Lampung, 15-16 Desember 2014.
Direktorat Jenderal Perkebunan. 2015. Statistik Perkebunan Indonesia 2014-2016. http://ditjenbun.pertanian.go.id/tinymcpuk/gambar/file/statistik/2016/SAWIT%202014-2016.pdf. (Diakses 24 Januari 2017).
FAO, 2013. The plantation. FAO Corporate Document Repository. Title. Oil Palm. http://www.fao.org/docrep/006/T0309E/T0309E03.htm. (visited 27-7-2016).
Lee, J.S.H., L. Rist, K. Obidzinski, J. Ghazoul and L.P. Koh. 2011. No farmer left behind in sustainable biofuel production. Biological Conservation. Vol 144: 2512-2516, doi:10.1016/j.biocon.2011.07.006.
Lestari, Eka Ernia, Sakti Hutabarat and Novia Dewi. Studi Komparatif Perkebunan Kelapa Sawit Rakyat Pola Plasma dan Pola Swadaya dalam Menghadapi Sertifikasi RSPO. Sorot Vol. 10(1): 81-98.
Rist, L., L. Feintrenie and P. Levang. 2010. The livelihood impacts of oil palm: smallholders in Indonesia. Biodiversity and Conservation. Vol 19: 1009-1024, doi:10.1007/s10531-010-9815-z.
Waarts, Y. and K. Zwart. 2013. Investing in sustainable palm oil production: Ex-ante impact assessment of investments in a palm oil mill in Palembang, Indonesia. LEI Memorandum 13-038, May 2013. Project code 2273000166. LEI Wageningen UR, The HagueFAO, 2013. The plantation.
Wildayana, Elisa. 2014. Formulating Oil Palm Investment Decision in Tidal Wetlands of South Sumatra, Indonesia. Indonesian Journal of Wetlands Environmental Managements (IJWEM). Vol 2(2); 30-36, October 2014, ISSN: 2354-5844. Indexed in DOAJ. Web-link: http://ijwem.unlam.ac.id/index.php/ijwem.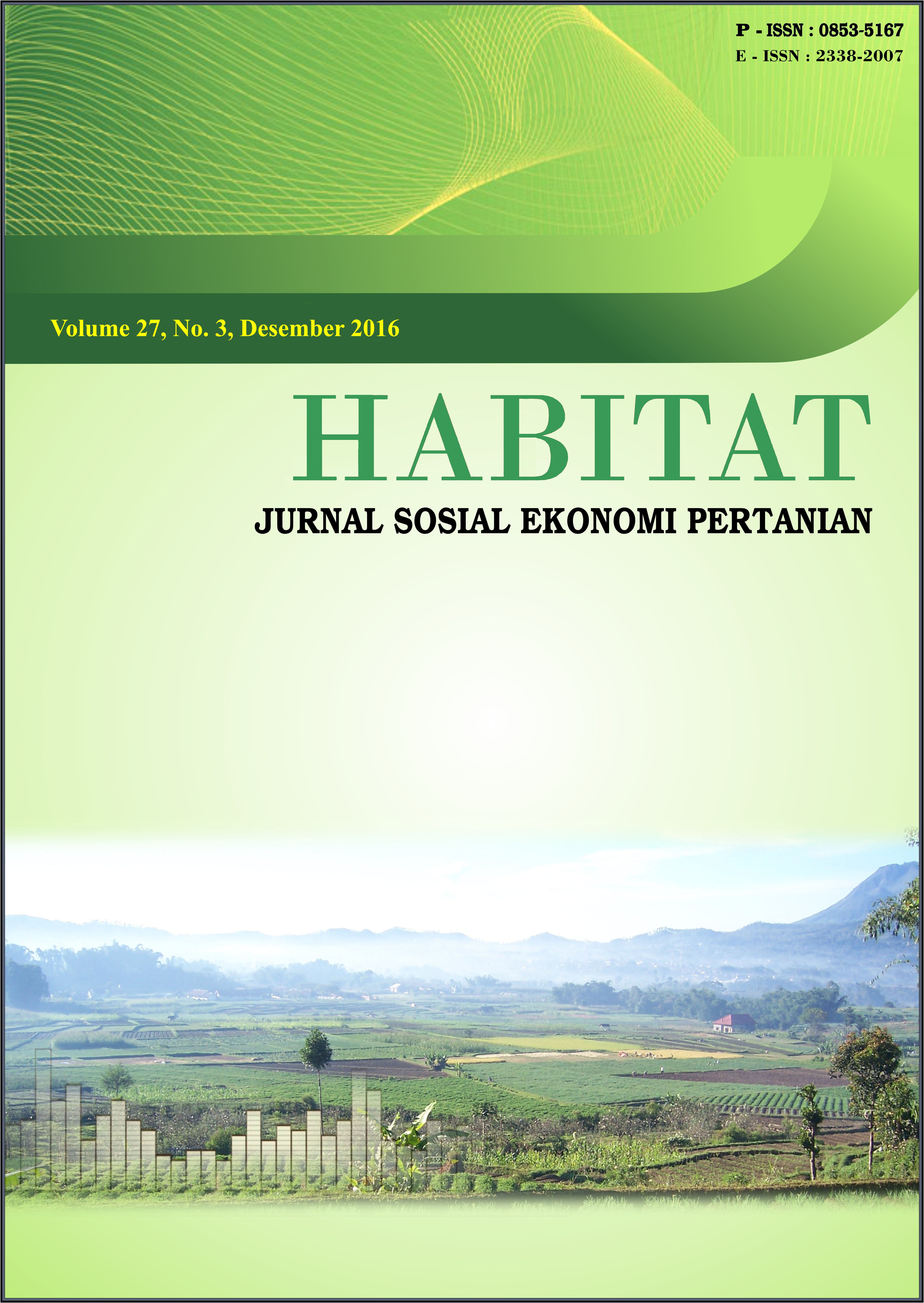 Downloads
How to Cite
Wildayana, E. (2016). Pendekatan Pengendalian Fluktuasi Harga Tandan Buah Segar Terhadap Pendapatan Petani Kelapa Sawit. HABITAT, 27(3), pp.103–108. https://doi.org/10.21776/ub.habitat.2016.027.3.12
License
Authors who publish with this journal agree to the following terms
:
HABITAT
by
http://habitat.ub.ac.id/index.php/habitat/index
is licensed under a
Creative Commons Attribution-NonCommercial 4.0 International License
.
Authors are permitted and encouraged to post their work online (e.g., in institutional repositories or on their website) prior to and during the submission process, as it can lead to productive exchanges, as well as earlier and greater citation of published work (See
The Effect of Open Access
).