THE MEANING OF AGRICULTURE AND TOURISM ACTIVITIES FOR TENGGER SOCIETY IN WONOKITRI VILLAGE, TOSARI DISTRICT, PASURUAN OF REGENCY
Keywords:
Human ecology, symbolic interactionism, ecotourism, farming, tourism
Abstract
Tengger people's life could not be discharged to nature. Human ecology, a science that describes the interaction of humans and the environment, led to a meaning through the approach of symbolic interactionism and encourage human behavior towards nature. The phenomenon has become the foundation of this research problems. The first objective is reviewing the meaning of farming and tourism services and the relationship between them. The second, linking these two aspects to the behavior of the local community conservation. Third, emphasizing religious activity and its relationship to farming, tourism services, and the local community conservation. In the economic sphere, the relationship activities of farming and tourism services lasted in a synergistic, integrated and encourage one another. As the positive impact, ecotourism was a solution encouraging the Tengger community to give a positive response on the application of conservation agriculture on the dry land, as the efforts to prevent and repair environmental damage. In the culture and religious teachings of Tengger community, there were some important parts of the community, such as certain spells, and the law of Karmapala and the mlaspals ceremony (temple purification) to the safety of humans and nature, at onfarm and tourism activities of live.
References
Aryadi, Mahrus. 2012. Phenomenology of Adaptation to Community Culture. University of Muhammadiyah, Malang.
Beaumont, Narelle. 2013. The Third Criterion of Ecotourism: Are Ecotourists More Concerned About Sustainability Than Other Tourists. University of Southern Queensland, Springfield, Australia.
Eshliki, Sajad Alipour. 2011. Community Perception of Tourism Impacts and Their Participation in Tourism Planning: A Case Study of Ramsar, Iran. Department of Architecture & Urbanism, Iranian University of Science & Technology, Tehran, Iran.
John W. Creswell. 1998. Qualitative Inquiry and Research Design: Choosing Among Five Traditions. London : SAGE Publications.
Maher, Patrick T., 2003. Tourism and Indigenous Peoples: Issue and Implications. University of Northern British, Columbia.
Na Songkhla, Teppakorn, 2013. Interactions Between Agro-Tourism and Local Agricultural Resources Management. Southern, Thailand.
Pramita, Nindya Helvy, 2013. Ethno-botanic of Kasada Ceremony at Tengger Community in Ngadas Village, Poncokusumo District, Malang Regency. Faculty of Mathematic and Natural Science, University of Brawijaya, Malang.
Sagala, Lambok P. 2008. Eco-tourism Request from Foreign Tourists in National Park of Bromo Tengger Semeru (TNBTS), East Java. Faculty of Forestry, IPB, Bogor.
Sayektiningsih, Tri. 2008. The Strategy of Conservation Education Development in Tengger Tribe Community in Enclave Village of National Park of Bromo Tengger Semeru. Faculty of Forestry, IPB, Bogor.
Sutarto, Ayu. 2006. Cultural Adventure. The House of Review for Historical and Traditional Values. Yogyakarta.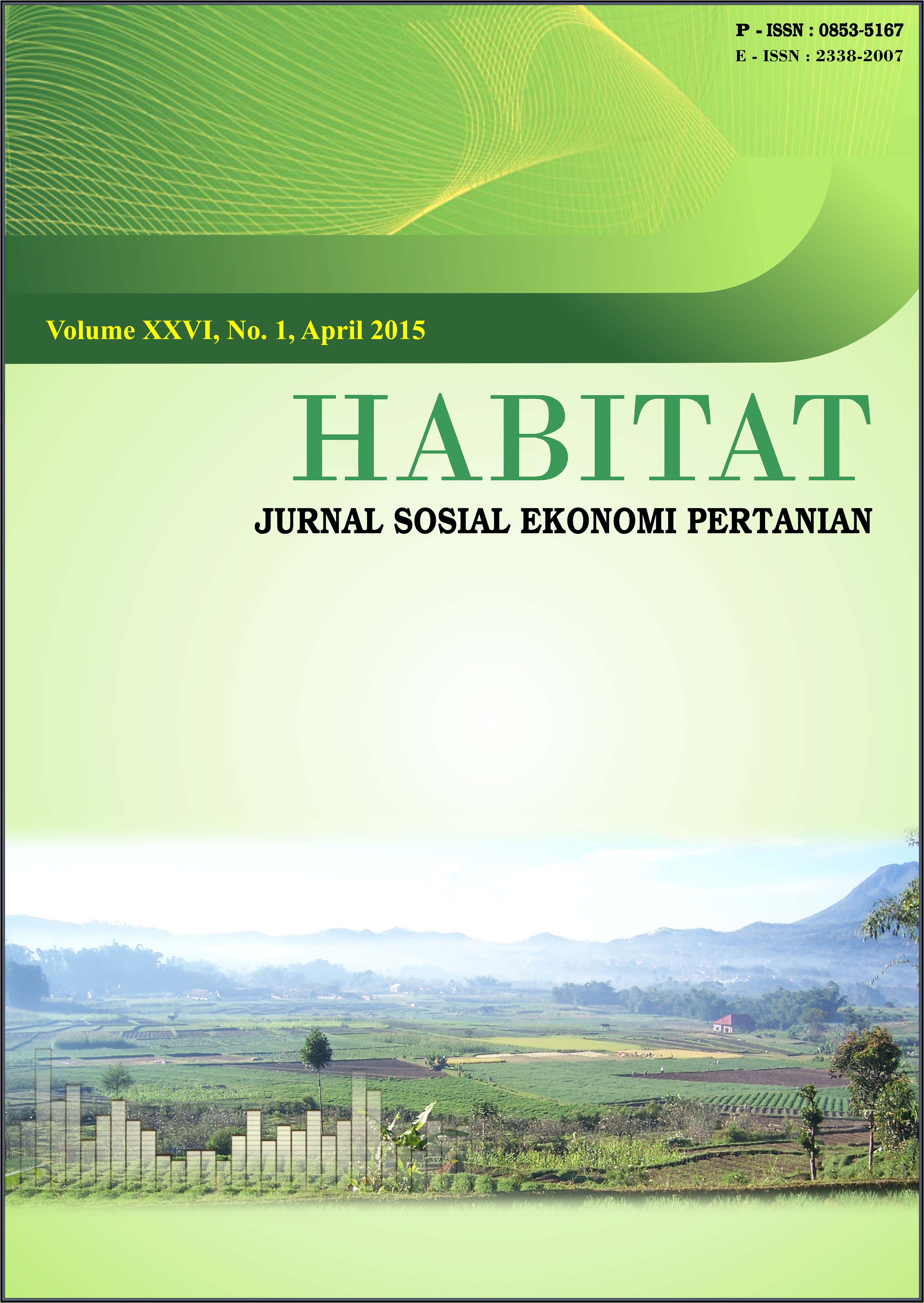 Downloads
How to Cite
Utomo, M. R., Hidayat, K., & Yuliati, Y. (2015). THE MEANING OF AGRICULTURE AND TOURISM ACTIVITIES FOR TENGGER SOCIETY IN WONOKITRI VILLAGE, TOSARI DISTRICT, PASURUAN OF REGENCY. HABITAT, 26(1), pp.40–46. https://doi.org/10.21776/ub.habitat.2015.026.1.5
License
Authors who publish with this journal agree to the following terms
:
HABITAT
by
http://habitat.ub.ac.id/index.php/habitat/index
is licensed under a
Creative Commons Attribution-NonCommercial 4.0 International License
.
Authors are permitted and encouraged to post their work online (e.g., in institutional repositories or on their website) prior to and during the submission process, as it can lead to productive exchanges, as well as earlier and greater citation of published work (See
The Effect of Open Access
).