Allocative and Technical Efficiency Analysis of Cassava Farming in Bitefa Village, East Miofamo District, Middle North Timor
Keywords:
production factors, stochastic frontier, efficiency, Marginal Product Value
Abstract
Cassava is a food crop with great economic value since its cost is affordable and has been passed down to the generation.  People at Bitefa village are majority a farmer who depends their life on agriculture to meet the needs. Problems faced by farmers in farming cassava at Bitefa village are farming management that is not in accordance with the guidelines and the use of factors of production that is not suitable for the dose recommended. This suggests that the use of factors of production are not efficient. Research objectives are: (1) to analyze the factors that affect the production of cassava, (2) to analyze the level of allocative and technical efficiency, (3) to analyze factors that affect technical inefficiency. The efficient use of factors of production is expected to increase production and income for farmers of cassava. The result obtained using stochastic frontier production function analysis is that the influence of cassava farming real production is the production of land and seeds. Meanwhile, labor, cost factors and the use of manure have no effect on the real production of cassava. The technical efficiency level of cassava farming in the research area is the lowest by 0.80 of which amounted to 0.99. While the level of NPMxPx for land use allocative efficiency is 1 so that the allocation of land use in the area of research has not been efficient. NPMxPx for the use of seed allocation is 1 so that the use of seedlings is also not efficient. Nonformal education influence is real and marked positive effect against inefficiency. Formal education is marked negative but having a real effect against the inefficiency. Farmer's age is marked negative and not real, while the experience and the number of family members are marked positive but having no real effect on the production of cassava.
References
Barber., & Benedito de Barber. (1980). Faktor-faktor Budidaya Tanaman Pangan. Artikel Pertanian.
BPS Timor Tengah Utara. (2013). Kabupaten Timor Tengah Utara Dalam Angka 2012. Kefamenanu: Badan Pusat Statistik Kabupaten Timor Tengah Utara.
Coelli, T.J., D.S. Prasada. Rao, and G.E. Battese. (1998). An Introduction to Efficiency and Productivity Analysis. Kluwer Academic Publishers. Boston/Dordrecht/London.
Laporan Kinerja Kementrian Pertanian. (2011). Kementerian Pertanian Republik Indonesia 2012.
Makeham J. P dan Malcolm R. L. (1990). Manajemen Usahatani Daerah Tropis. Bogor.
Montagnac, J. A., Davis, C. R., & Tanumihardjo, S. A. (2009). Nutritional value of cassava for use as a staple food and recent advances for improvement. Comprehensive reviews in food science and food safety, 8(3), 181-194.
Soekartawi. (2002); Teori Ekonomi Produksi, dengan pokok bahasan Fungsi Cobb Douglas. Rajawali Press. Jakarta.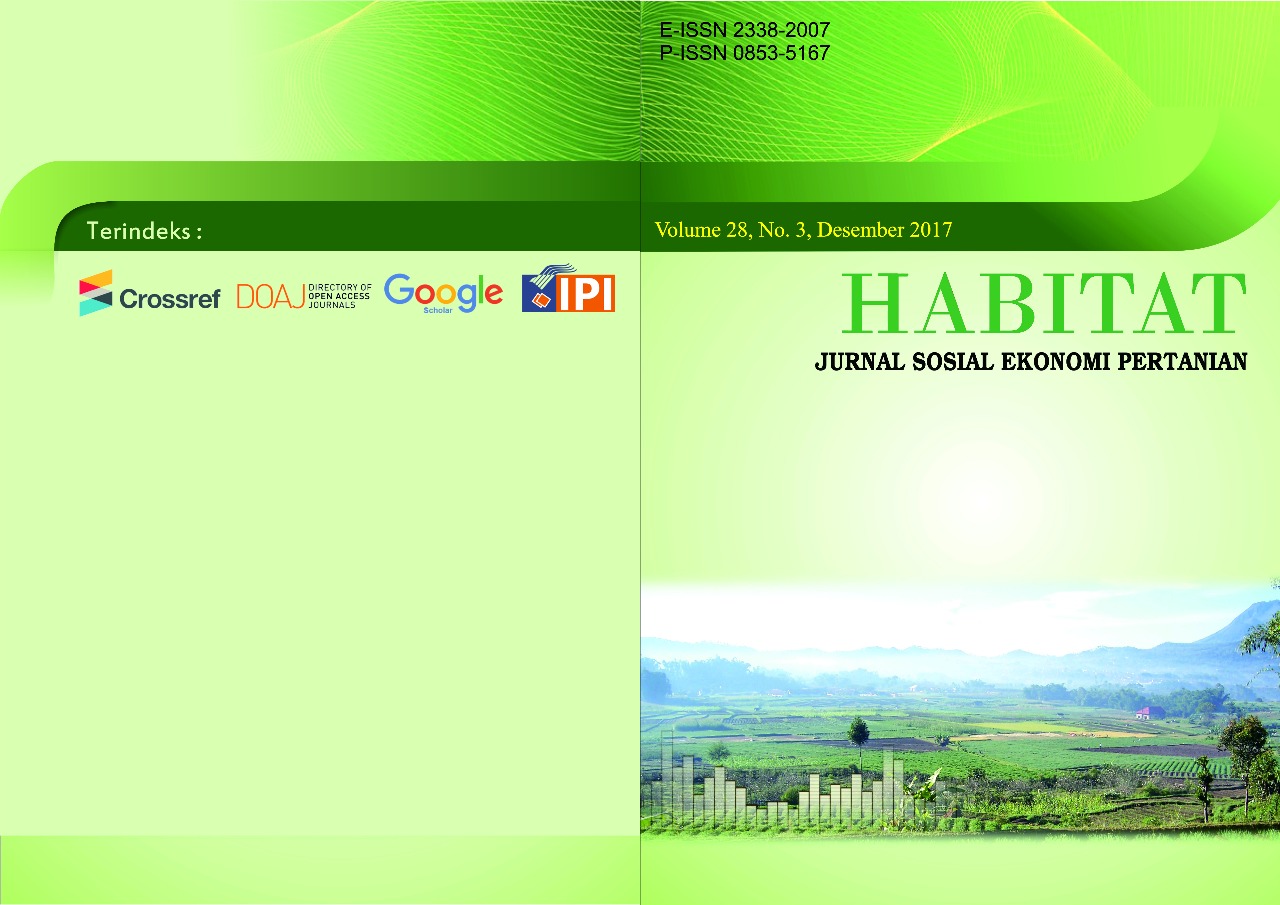 Downloads
How to Cite
Muhaimin, A. W. (2018). Allocative and Technical Efficiency Analysis of Cassava Farming in Bitefa Village, East Miofamo District, Middle North Timor. HABITAT, 28(3), pp.75–82. https://doi.org/10.21776/ub.habitat.2017.028.3.11
License
Authors who publish with this journal agree to the following terms
:
HABITAT
by
http://habitat.ub.ac.id/index.php/habitat/index
is licensed under a
Creative Commons Attribution-NonCommercial 4.0 International License
.
Authors are permitted and encouraged to post their work online (e.g., in institutional repositories or on their website) prior to and during the submission process, as it can lead to productive exchanges, as well as earlier and greater citation of published work (See
The Effect of Open Access
).